KAWAO est un groupe de musique Hawaien bien cool qui se trouve dans le TOP 20 du Pacifique!C'est cool à consommer sans modérations!Voici la bio du groupe!
KAWAO's hottest new album, Reggae's Coming is an island reggae vibe, enhanced by inspiring lyrics that embraces the Hawaiian island culture infused with a dominant reggae baseline.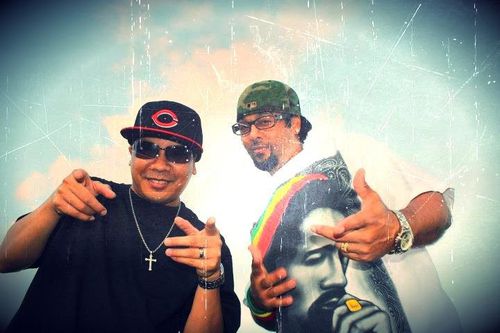 KAWAO has proven to be among the top reggae bands in Hawaii with their crowd pleasing performances. As prolific composers, producer and songwriters, KAWAO has arrived as ...
outstanding vocalists and performing artists. Tenured in their promotion of their first 4 albums, One Of Those Days ; The Secret's Out ; The Bond That Binds ; and DETERMINED, KAWAO captured the world wide audience with their hit songs, "Girl, Let Me Know", "One Heart, One sound" , For My Special Girl", "Push Comes To Shove" "Bounce" and the track "Going So Crazy. Representing Hawaii's Reggae music at the Na Hoku Hanohano Awards ceremony for three consecutive years in 2009, 2010 & 2011, Kawao were nominees for Reggae Album of the Year twice, as well as DVD of the Year making a lasting impression on all of Hawaii.
Upon completion of Reggae's Coming, Walt G. of KAWAO said, "This has been our most rewarding project thus far, because it has reinforced our confidence in ourselves. We now display more of our innate musical talent on every track of our new album, Reggae's Coming."
The concept behind Reggae's Coming was to produce an original-sound composition with more musical arrangements to compliment the lyrics. It is a blend of different vocal and instrumental counter melodies. Call it Jahwaiian music, or call it Reggae music, one thing is for sure, "KAWAOStylee" music as we call it is certainly a genre of music in its own kind. KAWAO has always strived to satisfy their audiences with their originality of their music composition and performances creating that KAWAOStylee signature to their music.
The demand for this album entitled Reggae's Coming brings hype and anticipation to music lovers world-wide. This album gives you the newest 2 singles entitled "Reggae's Coming" and "Hey Pretty Mama" that is hitting airwaves globally. All tracks on this album promote and display high and positive vibrations that you can relate and groove to. Reggae's Coming will leave you grooving to their high energy sound. If KAWAO's music and lyrics resonate in you, it is because we all connected sharing the same life experiences. Within their music lies a powerful truth that can change your life… and inspire you to settle for nothing less than SOMETHING MORE, and if you want something more get your KAWAO's newest album Reggae's Coming at your favorite music store NOW!