Direction l'Italie à la découverte d'un graffeur surprenant qui a joué au jeu de l'interview et c'est bien cool de le découvrir!!
Your blaze (name graffiti)?

- Shake the name was born in 2006 when one day my friends told me to come and draw with them, when I did not even know what it was a skinny. I drew a disgusting, after two letters I gave up and let it go, meanwhile I saw the pieces of the other as they were compact, united, and full of color, I felt a shiver through me the heart and from that moment I started and I have not stopped since (unlike my crew) sHAKE because the graffiti gave a jolt to my life, without the graffiti who knows where I would be now.

A picture of you, your work, what you want (with an explanation of course ...)
-I am a 20 year old boy I live in Italy but are of Palestinian origin, for now I am studying in the graphic that will be my future work, are also fascinated by the study of psychology and above all I hope to continue to draw without ever stopping.
Your first graffiti (what year? Where? With that?)

-My first graffiti was in 2006 with the crew of friends (GFC) in Italy, under a bridge visible for all to see. E 'was exciting to show off to people and create something new and beautiful!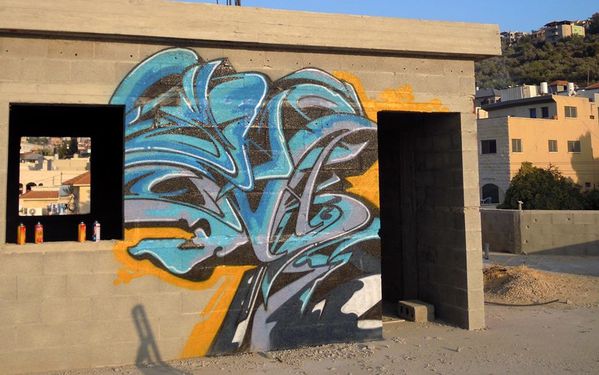 Why the graffiti as a form of expression?
-The graffiti in my opinion are a form of communication that expression. But it is also true that they can express their own thoughts or can be combined with an event or an important event. Also when one is designing a puppet or a lettering is increasingly expressing something important to him.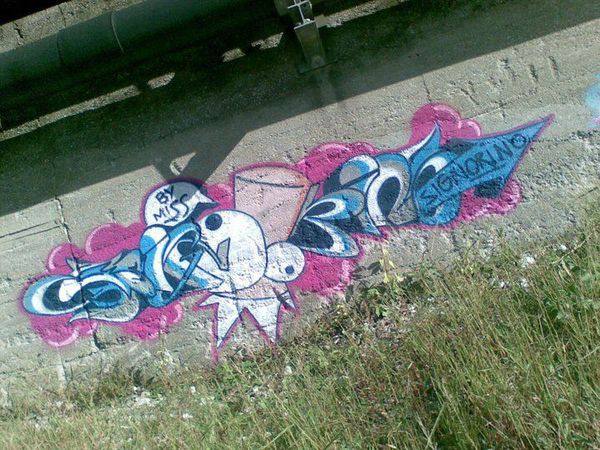 Where do you like most maked graffiti?

-Graffiti love them on any surface, but lately I love to go see them on trains as it is an important means of communication.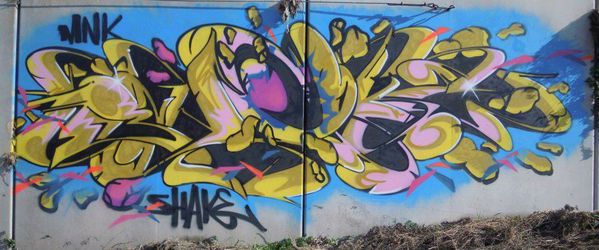 You're pretty focused on the letter? The characters? The color? The graphics? Forms?

-It is when you are drawing must be very focused in my opinion, it is important that each line is drawn, especially when you have little time. But when you have time as in the lobby, I try to stay there as long as possible, no worries, no problems, it's just me and my graffiti I do not think about anything else.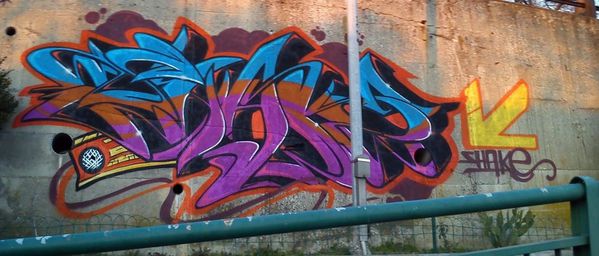 How would you define your style?

-To tell the truth I do not know how to define it, the only word that I think should be a wild style is modern, unlike the old arrows I decided to create rounded shapes sometimes more and sometimes more angular, all part of the form that I want to give to my piece.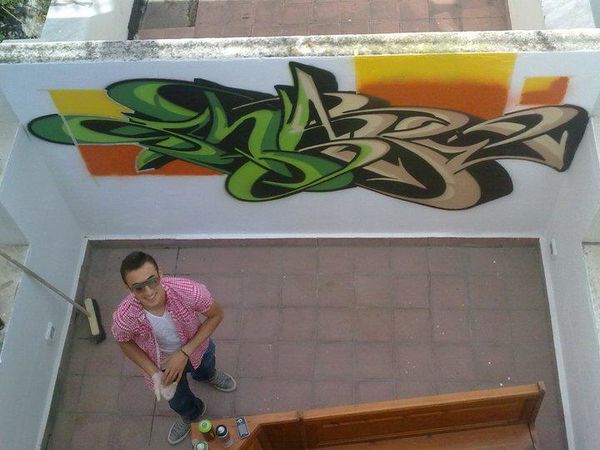 How do you perceive your career in local graffiti culture?

-I live in Genoa, and lately the graffiti are dying are very few people still active than when I started. My career is going well about my passion, because I know all about drawing 3-4 times a week, but I want to travel the world and be able to leave a touch of me in every wall of every place.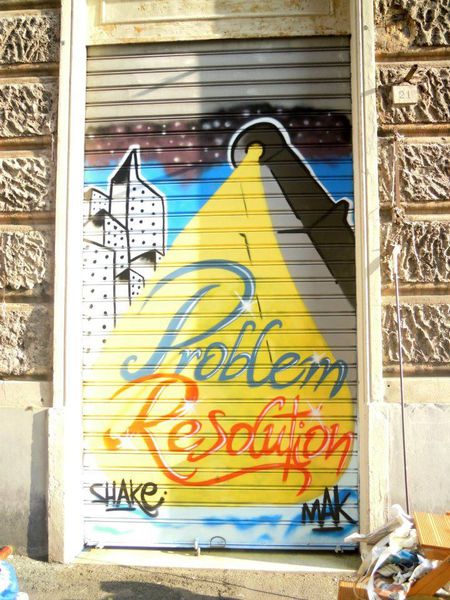 An important meeting that motivated your work?
-There have been many large pieces of graffiti that meeting them I was up even more the desire to draw, as Pakoshen, Thief, Resh, BDS crew, with whom I recently also had the good fortune to collaborate and draw ourselves together.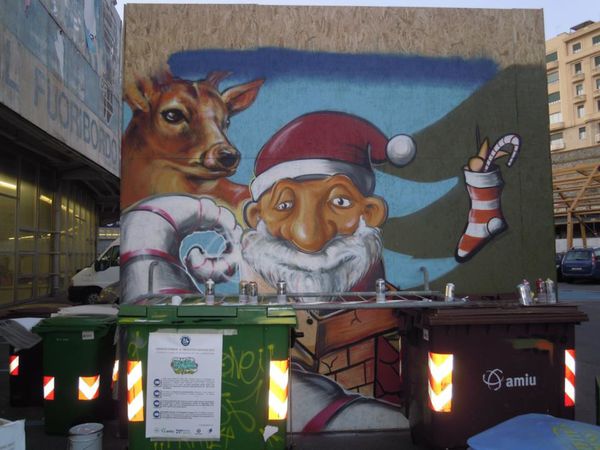 What is the role of graffiti in your life?
-Graffiti are the first thing I think, are everything to me.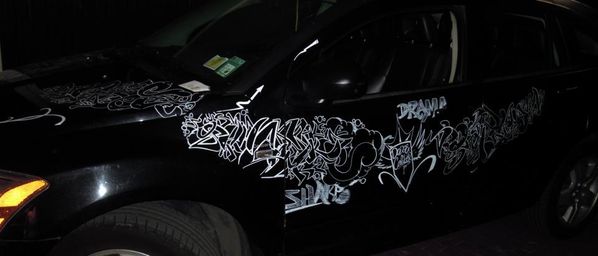 Your sources of inspiration?
-My inspirations are everywhere, from Italian to French pieces pieces like the artist Darkelixir which is a person whom I respect even if I never met him but I talked with him and his pieces have a unique style, then Dare (rip) Does.
-The dedications to people who are in my heart whether paint, and if you do not paint it.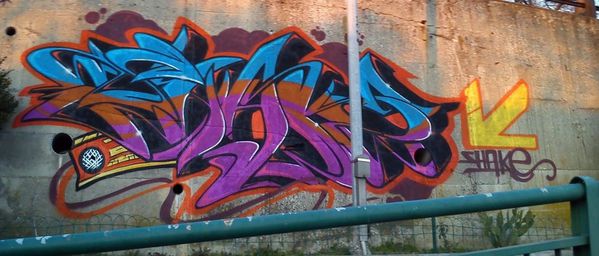 Dedications course?!
THANK YOU VERY MUCH. Shake.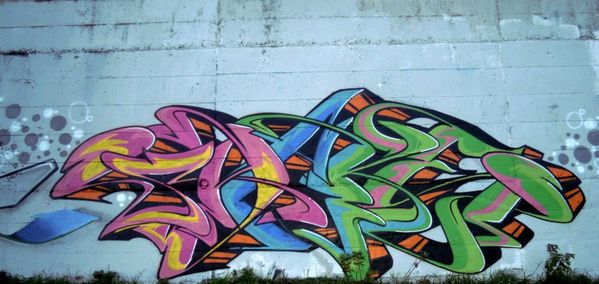 https://www.facebook.com/pages/Shake-Italy/105741316182949