Sam Gordon est un skateur slalomeur de Londres qui est un des meilleurs amateurs au monde et aussi l'organisateur des compétitions anglaises!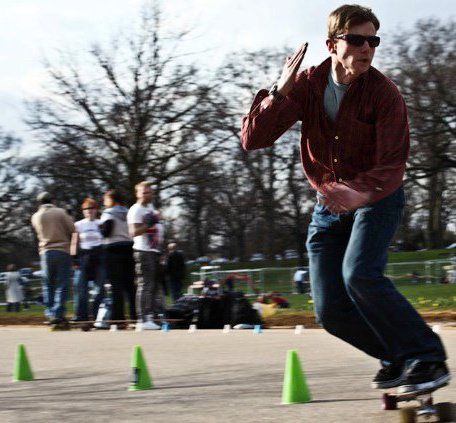 When and why do you discover slalom skateboarding?
Way back in the Seventies it seemed like everyone skated. I picked up the craze aged ten in 1976. '77 was so hot it seemed like the UK had turned into California. Everyone from Prince Charles to Farrah Fawcett appeared on a skateboard. You were odd if you didn't skate. It was still the pre-punk days. We'd buy Pepsi branded glasses from The Reject Shop to house long cool drinks and pretend that we were part of the US team.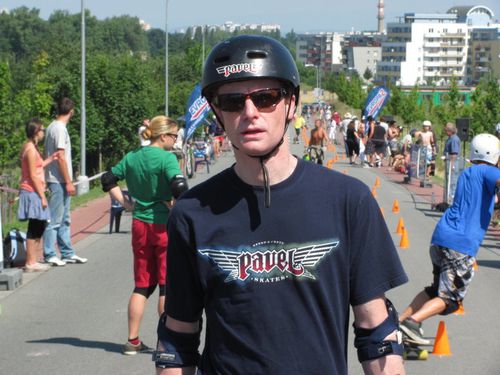 Seeing guys like John Sablosky and Jeremy Henderson in the magazines doing impossible airs made us whack planks at an angle against the playground wall at school and try basic kickturns during break time. Most of us had cheap boards like Surf Flyers. I had a Supa Skuda from Gamleys in East Grinstead which was upgraded to have ACS 580 trucks and Pipeline 2 wheels. It wasn't exactly a G&S Bowlrider, but back then all skate kit was incredibly expensive and the Skuda certainly looked the part. Given that we were lightweight kids, turning was difficult, so instead of slalom we did tick-tack racing down the length of the school's 'Underground Gym.' In 1980 I went to a large boarding school in Oxford. Rugby, rowing and cricket were the 'permitted' sports, whilst skating was frowned upon and regarded as 'juvenile.' In addition, I'd be packed off to ski camps in the Summer, Winter and Spring, so ski slalom took over where the skating had stopped. It's a pretty good exchange!
Where do you live?
Whats it like living there?
How about the skateboard slalom scene ?
Moving to London in the 90's made skating accessible again. I'd taken on an assistant at work who was sponsored by Slam City Skates for street style. With the idea of showing him what skating used to be like, I managed to get hold of an Indiana Big Chief deck from Switzerland. Hadn't really intended to buy it, but they replied to my enquiring e-mail with 'Do you want one or not?' I had to say 'yes.'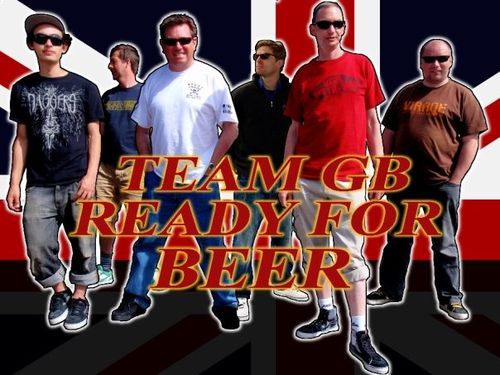 With a few pumping lessons gleaned from reading NCDSA via their newly set-up Slalom forum, it seemed that pumping was the obvious way to go. It cut walking time to the Tube by a third and made it a lot more fun. I seemed to be the only person in the UK doing slalom, or using slalom technique. Then I saw Paul Price and Martin Drayton on the web representing UK at the Worlds in Morro Bay. There were others. And good skaters too!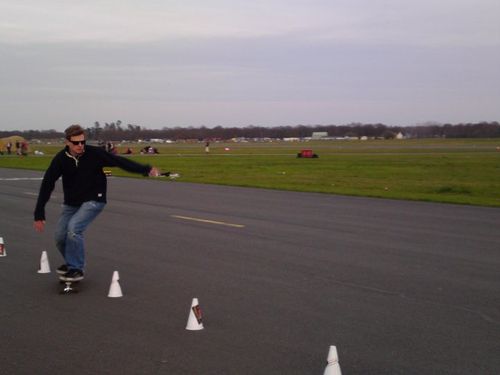 Via the web skaters were drawn out of the woodwork, and we set up open slalom sessions in Hyde Park and Crystal Palace back in 2001. Going strong ever since.
London is definitely regarded as on of the two main slalom centres in the UK. The other is based on the south Coast around Brighton (Pig City) and the friendly rivalry between the two regions is pretty strong and equal. With the departure of Paul Price to Utah, the Pig City boys are definitely on the rise, their excellence being met by young London skaters such as Louis 'Slipa' Selby and Bruno Oliveira.
Do you skate slalom often?
Despite being flat, the Tuesday and Thursday evenings sessions at Hyde Park has proven popular partly because of its central location and partly for the 'English Training' as it was christened by visiting US skaters. It seems to involve one part slalom practice to two parts 'Queens Arms' pub. Or, as a Euro racer rather cruelly described it, one beer per cone. No matter. Both locations have been graced by such legends as Steve Olson, Richie Carrasco and Greg Fadell, so the tarmac has good provenance. And on Saturdays we have a coffee morning skate at the Serpentine. Naturally this starts at mid day earliest.
What is London like for slalom skating?
Because it is the melting pot for a huge amount of folks from all walks of life, London has become the focal point for UK slalom. Everyone is welcome. Longboarding has now become a popular past-time, with many of the new skaters trying out slalom as one of the core parts of its many facets. The California attitude seems to have returned to skating.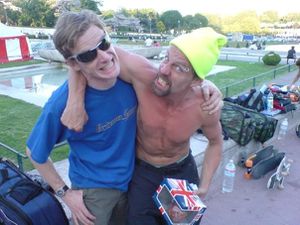 What is your best contest that you participated?
Going to the Morro Bay Worlds (organised by Jack Smith) in 2004 has to be up amongst the best times skating. The resurgeance in slalom appeared to be international and all of the big American names were present; Gilmour, Team Radikal, the O'Shea brothers, Hackett and Olson, Richy Carrasco, Mollica and Maysey, the Badlands crew. Having seen previous editions reported on the web, I'd really gone to watch the event as a slalom tourist. Taking part was something else. It gave a Californian legitimacy to it all. To cap it all Henry Hester was the race starter.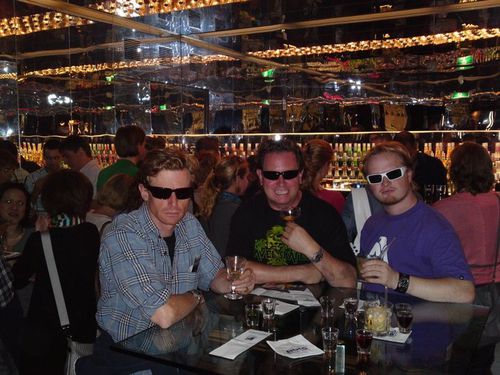 I shared a room with Paul Price and Floyd crashed on our floor (when he was around.) Floyd started the tight slalom a little muddle headed after a long night's disappearance and had to ask what round he was in. 'The Am final,' we replied. 'Oh.' His natural skill and supertight vintage Lazer trucks carried him to victory despite himself.
That evening of his disappearance I'd been skating around the car park by the motel. From behind the bins appears this chap who asks for a go on my board. I let him, thinking that the bum would crash. He skated off with incredible style and then gave me a report on how to improve my setup. That skater was Jim Korten, slalom legend in the '70s who had fallen on hard times and had made his way to the Worlds by foot. Jim took out many respected riders in the pro category TS on a borrowed board.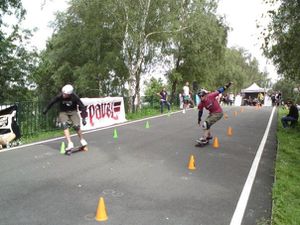 As for me? I was lucky in the GS on Turri Road when the wind changed and blew down the hill. My second run was ten seconds faster then my first, placing me ahead of Maysey and Stride. Plenty of speed wobble near the finish!
What is your best results?
How would you define a good session ?
Would have to be any race where I beat a close Nemesis. In the early days it would have to be Corky (Hans Koraeus). He'd always place one ahead of me. I was ahead of him on the second run Hybrid at the Cap d'Antibes, but was so excited of the possible victory that he beat me. Then he retired, goldarnit.
Since the Euros in Koln 2004, arch rivals have been the evil creative genius Donald Campbell of Pavel notoriety and the saucy cartoon character, Pelleplast. Any close racing with these guys is good racing. And Holger Kindler and Carsten Pingel. The characters make the skating for me.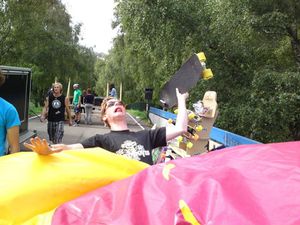 Best in terms of results in the eyes of the World? That'd be the Amateur overall victory at the Baltic Sea World Cup, Jurmala 2007. I'd run a very short wheelbase in the TS and just beat the Hadestrand brothers. It was in the days before they became Swedish meat. Gustav Gailitis was lanky back then also. Nowadays they'd all have me as a starter at breakfast.
Jurmala is a lovely pine forested beach resort. Not only were there evening parties on the Baltic sands, but the Latvian girls all know how to promenade to the best of their capacity. Thumbs up!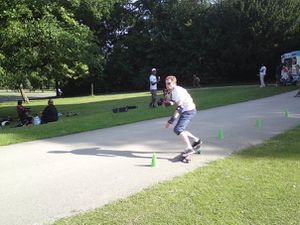 What is your sweet spot ?
That has to be Hog Hill because it has everything we need, including good slopes, a café and showers.
A few years back the home skaters said that it was unfair that there were no races in the UK and that they didn't have the time and funds to go abroad and compete. When I suggested they organize their own thing, every supposed volunteer took a step backwards. That's skaters for you!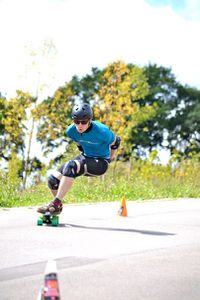 With the help and support of Michael Stride at Octane Sport, we put on the Wasteland series at Hillingdon cycle track near Heathrow airport. There was a constant northerly breeze that blew up the GS slope. On one occasion it was quicker to skate the course uphill through the cones than going downhill. Another site had to be found.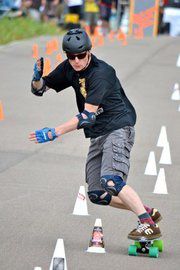 Through the cycling magazines I'd been monitoring the construction of Hog Hill. Its name sounded promising alone. Having contacted the operating Council to inform me immediately a site manager was appointed, I received a call from Ian Coles out of the blue. It took a while for me to work out who he was and what he was on about. I nearly said that he must have the wrong number. Why On Earth would I be interested in hiring a Redbridge Council property? Doh!
Ian kindly rented us the circuit before its official opening and we have had a good relationship with the cycle circuit ever since, running two or three events a year. In 2011 Hog Hill held the British Championships (ISSA Main status) with skaters from Holland, Germany, France, Czech Republic, Brazil and beyond.
For you, What represent Island Slalom Tour?
The Island Slalom Tour seems to carry the good vibe of enjoying the character of racing over and above competition. The locations look to be a fantastic place to visit whether skating happens or not. What is it the French say? Liberty, Equality, Fraternity. And Slalom too. No-one had ever heard of Batz Island before the Christmas event appeared on the ISSA calendar a few years back. It sounds like the secret lair of a super hero. Pelle must have a holiday home there to store his vast range of mankinis. Everyone must go at least once.
As an aside, the 2010 Batz Island Slalom poster is my favourite race graphic. It is simple in colour, features neither skateboards nor skulls, and gives accurate directions to the event. And a lighthouse. Brilliant artwork! It runs with the best of Pavel and Airflow.
Good memories ?
Is this the bit where you say skating with friends? Yuck. OK then.
Qualifying in the middle of the pack doesn't seem to matter provided the competition is close against pals. Us Amateur Brits never seemed to win in Europe, so we set up a club of also-run enthusiasts: CCR. Credit Card Racing. If we couldn't gain victory by skill alone then we'd shop ourselves faster. Shiny new kit feels and smells of victory.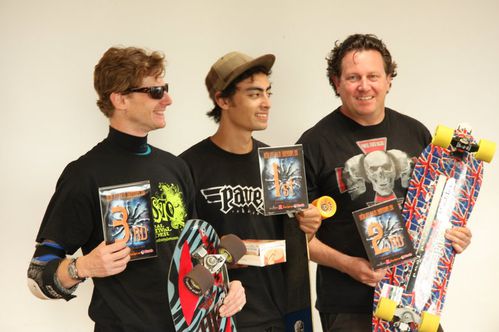 Oh, and another good memory? The thousand beers in the company of Paul Price. Gothenburg, Stockholm, Jumala, Sigulda, Amsterdam, Dusseldorf, Koln, Munich, Hannover, Brixlegg, Zurich, Policka, Brno, Prague, Paris, Grenoble, Antibes, Statesville, Morro Bay, London, Brighton, Bude, Hog Hill and on. Thank goodness Glastonbury Ales sponsor the UKSSA.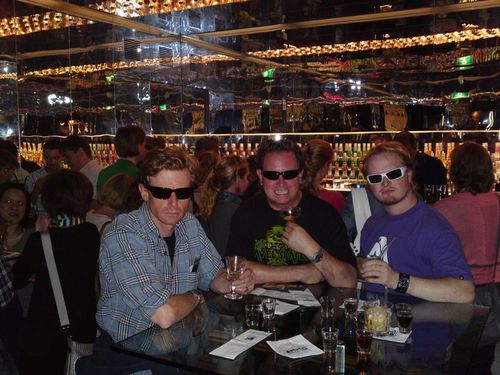 2012 ? Contests at London?
2012 will be a low key year for us Brits. Hog Hill has largely been reclaimed by the cyclists, whilst the remaining days have been purloined by the Olympics. If only Paris had won! We are looking at a new location for next year, but it has yet to be tested. This is the A2 Cyclopark. It has a skatepark and good stretch of floodlit tarmac, so racing can go on into the early evenings if things work out.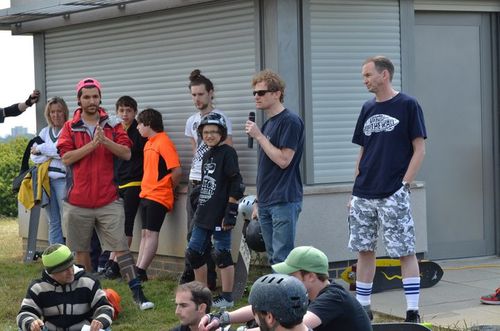 We should also be holding another Brands Hatch race in Kent. This motor racing track has to be one of the most fantastic slalom locations on the circuit and is the spiritual home of British slalom competition. Rob Ashby did some excellent negotiating to secure its usage and we might run an informal alternative 2012 Olympics there.
Check out the UKSSA Facebook page https://www.facebook.com/groups/288903651967/#!/groups/288903651967/
and UKSSA wesite for details and updates http://www.ukslalomskateboarding.com/
I hope that answers some of your questions!