Nuria Goma est championne d'espagne de kite surf et elle sur le tour mondial depuis quelques années. Elle est originaire Barcelone et aime voyager à la recherche de spots parfaits!Elle nous parle de kite,bretagne,paté!!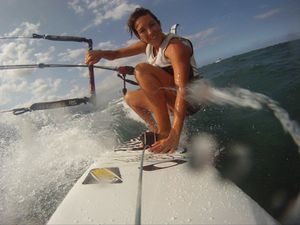 When and where did you arrive ON earth?
Haha, that is a funny way of asking a girl how old is she?! I am already 32 but I feel as good as when I was 22!! I was born in Sabadell, Barcelona.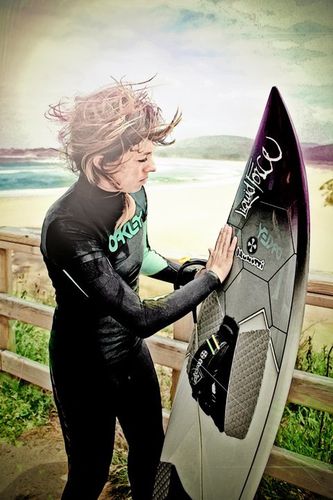 Yeah I know! I am really funny!
When did you started kite surfing?
My first contact ever with a kite was on 2004, but I did not start kiting more than 15 days a year until 2007.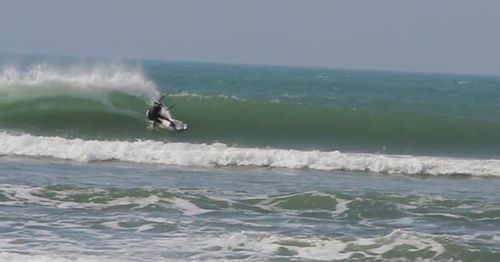 Where do you live and is it a good place to make kitesurf?
Sometimes I do the same question to myself!! I am originally from Barcelona, Spain, and yes, it is a good place for kitesurfin specially in summertime when the thermic winds start blowing everyday; but actually last year I only spent a total of 2 months there, so I guess I spent more time in Brazil (3 months a year) and at airports and planes that in my own home ;)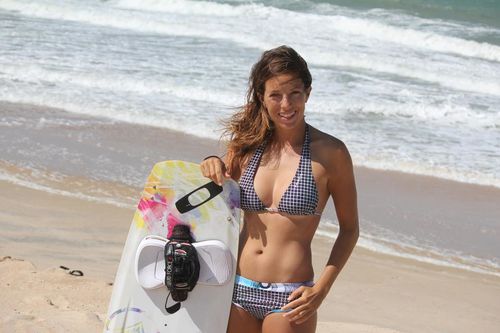 What happens to your kiting career?
Everything went super fast actually. I quite my job after working in a bank for 10 years just to try and live my dream becoming a professional kitesurfer. So after 2 years I've achieved better results that I could have ever imagined: Spanish Champion, 3rd in PKRA in waves (World Tour) and so long also 3rd in the IKA ranking of Racing Production boards.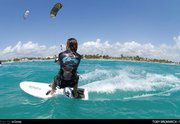 Yeah,It is good but 2012 will be better for you!
What is your best souvenir when travelling ?
The videos I make with my GoPro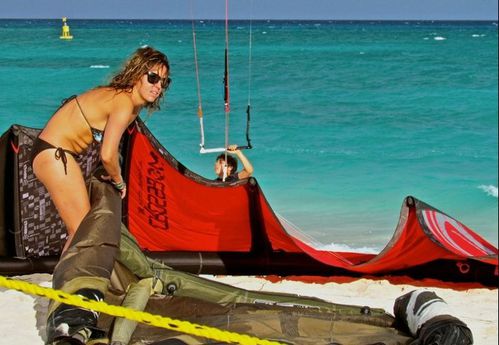 One morning, you wake up ,You arrive in your kitchen and suddenly,you see a genius in wetsuit! He say:" Hey Miss, I can offer you 2 magic gifts! What do you want?
Eternal youth for me and my people and being in a perfect kite spot with them where the wind never stops!!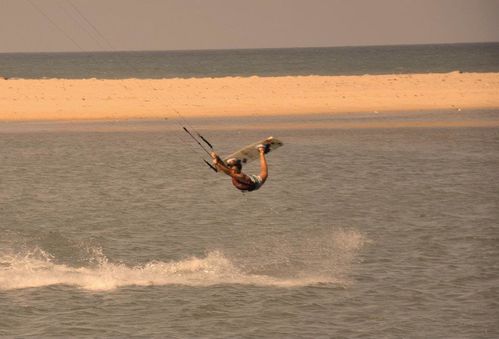 Do you often ride skateboards?
I did when I was a kid as my big brothers loved it, but I somehow stopped doing that. Last time I rode one was two years ago for a fotoshoot and I defenetely should get more practice!!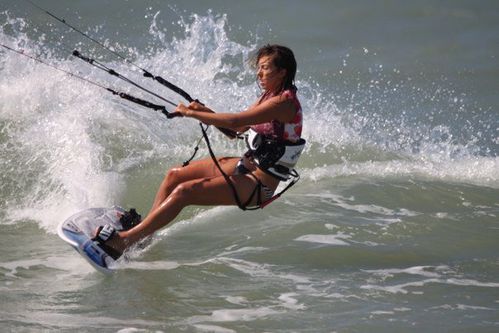 Island Slalom Tour is a series of skateboarding contests on tiny french islands where nobody has ever skated! We are as Captain cook at Hawaii in 1600! Except we have now motor boats and concrete roads... What do you think about this?
Wow, amazing! When can I visit you guys??!!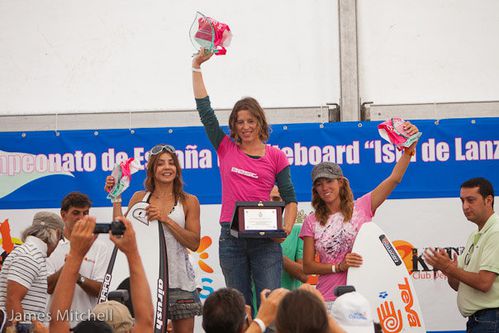 Yes,you can!Brittany is perfect to make kiteboarding!
Do you know brittany and the goods spots ?
I know Brittany, I did a road trip around France but that was before I started kiting.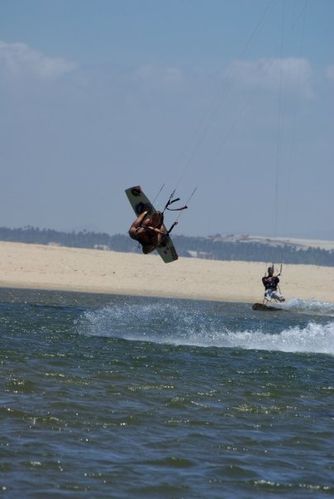 How would you define a good session ?
A good session for me is when at the end of it you just go out of the water to meet your friends with a big smile on your face and with feeling inside you that life is good!! So probably kiting in a not very crowded place, with stable 18 knots warm water with ether flat water or perfect waves with side offshore wind.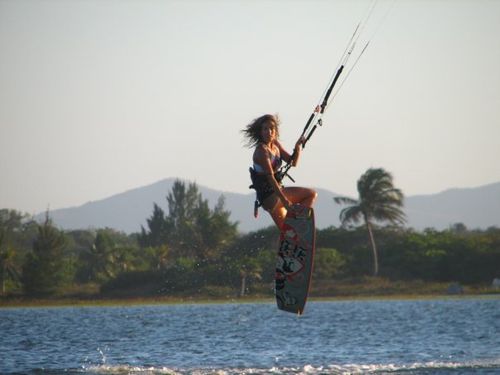 What other sports do you partake in?
I love jogging as I did athletics for 10 years before kiteboarding, Spinning in QWellnes (my gym) when I am back in Barcelona and I cannot kite and lately I am getting quite adicted to SUP (paddle surf).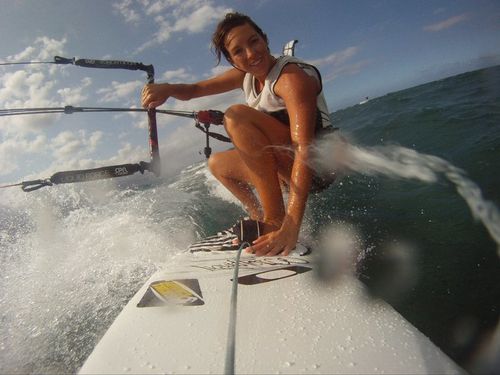 Do you know paté henaff?
No, but I asked Mr.Google and he said Pâté Henaff is the pâté leader in the supermakets in France, what reminds me that I love Pàté!!!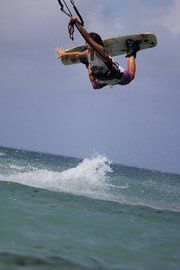 Do you have sponsors?
I do have sponsors that help me with the best gear in the market as Liquid Force, Oakley, YourMood, SkullCandy, Charko, Buff and Brunotti
What is your device?
Travelling around the World meeting new people and descovering new places.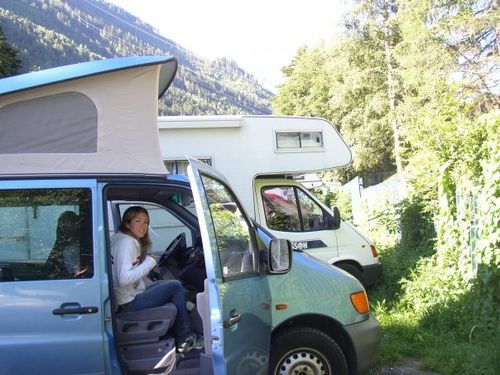 If you were stranded on a desert island that already has a plentiful resource of kitesurf and sails what three things would you bring?
My laptop full of movies and music, a good book and my boyfriend ;)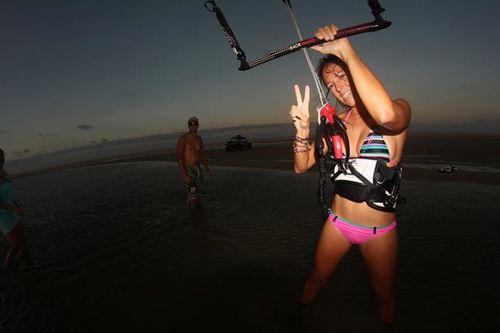 If you want others interviews,go here
http://ist2011.over-blog.com/categorie-12179031.html
A last word?
Just One Life!!