Direction l'espagne à la découverte d'un graffeur qui fait du superbe travail que ce soit les persos ou le lettrage!!Il s'appelle Miedo Garcia et il est aujourd'hui en interview sur le site de l'Island Slalom Tour!!!
Your blaze (name graffiti)?
Miedo12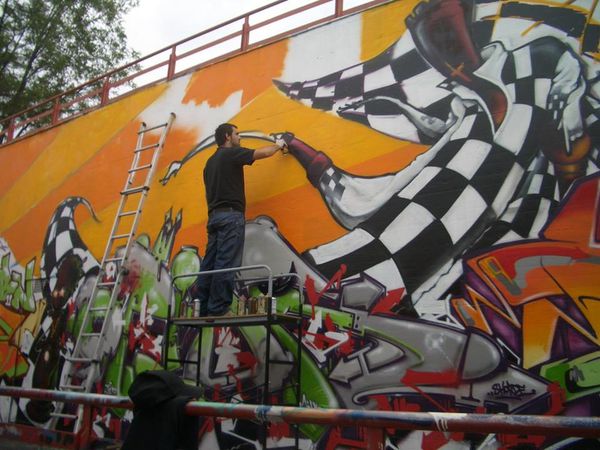 Your first graffiti (what year? Where? With that?)
My first graffiti was in '98. The truth is that it was a silver, and two months I made another on a train, in the first car of the train, the train head the problem was that it was red and stuffing my piece was red jajajjajajajja. Also this morning I had a motorcycle accident and when we had to run, looked like the Hunchback of Notredamm running ajjajajaj. It was fun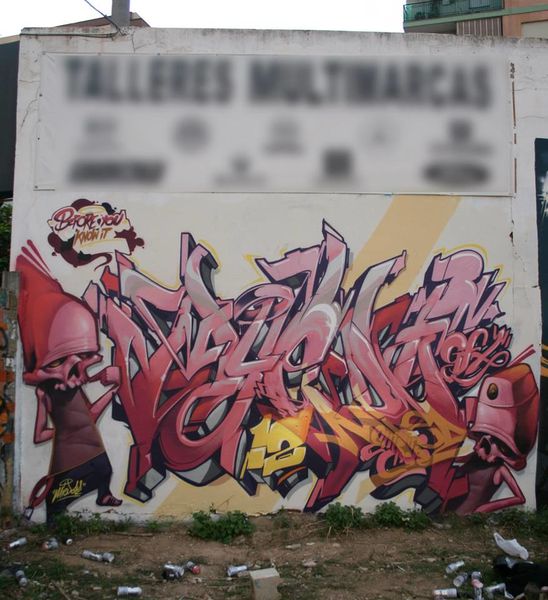 But what I consider as the first graffiti was a few months. at the end of the summer holidays, I went to a village a few kilometers from my town and paint the back of a metro walk. I realized there really was not as easy as it seemed, all my friends back then painted for 3 years and I thought it was easy to see him every weekend
Always spray ... and at the time I was small and painted with classic montana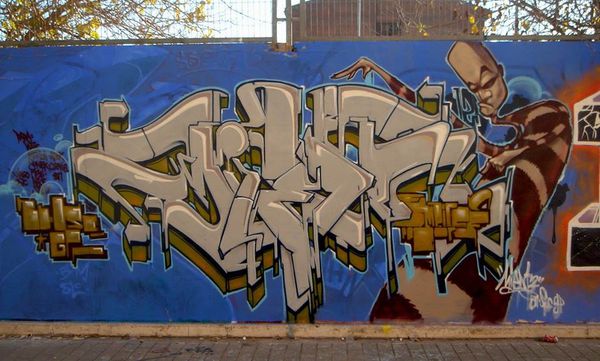 Why the graffiti as a form of expression?
It depends on the time you have some reasons or other. At first I wondered why not, he painted because it was cool and so were more interesting for women jaajaajj.
Then I would say it was because of competition with other writers, always healthily, in what could be.
Today, it is by the sizes and spray as a tool. I mean I do not seek to express anything, not the observer hits. To me graffiti is for writters, not for the general public. Besides the speed provided by the spray does not provide it any more tool, in my opinion.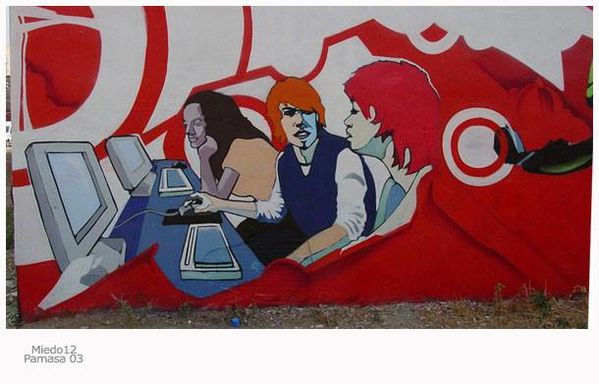 Where do you like most maked graffiti?
I understand that you mean favorite places.
When I was smaller, it was important that saw .... do marketing.
But now that I do not care. What matters to me is that the wall is good but does not see anyone, but I can do a job that I go home happy
I prefer to do little but elaborate. That's why I do not like the bombing.
I'm not saying this for the bombing, I like to see. But I like to take my time to think and look better one way or another. In the bombing, you sacrifice time for creativity by Walker reaction.
I'm an egocentric ... I just think in my jajajajajajaja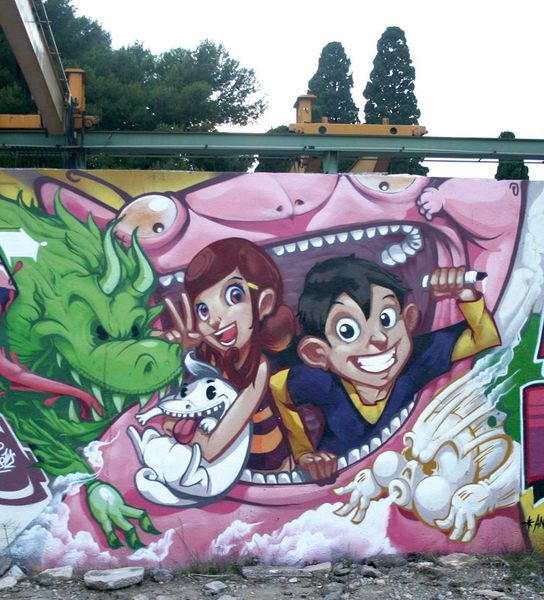 You're pretty focused on the letter? The characters? The color? The graphics? Forms?
the rest I like, it is clear that if I see a very elaborate drawing it seems incredible, but if the lyrics are clean and stylish. I like much more.
the background or the puppets are a complement
The truth is that for me the most important are the letters and style of them. Whenever I see a piece of myself or others, I imagine the black and white letters.
If these forms do not like or watch that have style, however well they have combined the colors, do not like it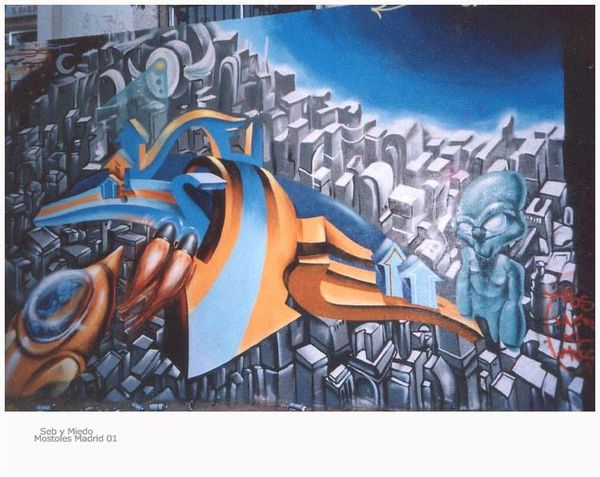 How would you define your style?
I would define it as European wildstyle, but I think it would be rather
"Style kid who did not pay attention in class" XD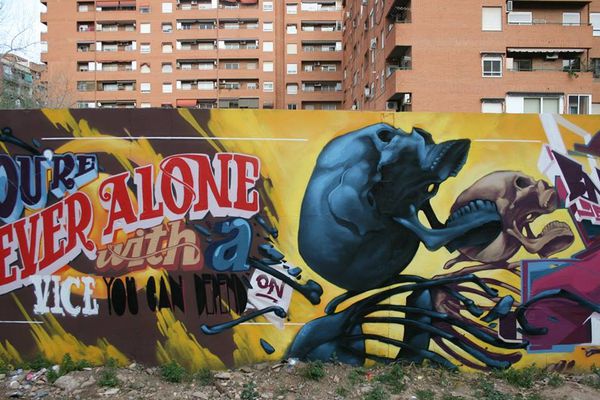 How do you perceive your career in local graffiti culture?
Mmm, do not know. I mean in the 90s there were few fanzines and in my city there were many people who painted more or less wise when someone had a good race.
Now with the internet, the truth is that I find, with so many media.
And in my town and we are few, we've known for many years, we are dinosaurs .... and among friends no one will say something good, that if mess with your mother give it for granted ... but always with affection

Now seriously, do not know. I have never sought fame or make a profit with graffiti. By extension not know if I care about what I do is seen on online fanzines or if people talk about it.
I hang things on the internet because it is always nice to see that people from other countries to see and like what you do .... And also so that I lose time if you hang something, someone commented or give him a like or dislike and that person has another writter, which you can see, no need to spend hours searching, so you could say that is by take my time to find my favorite writers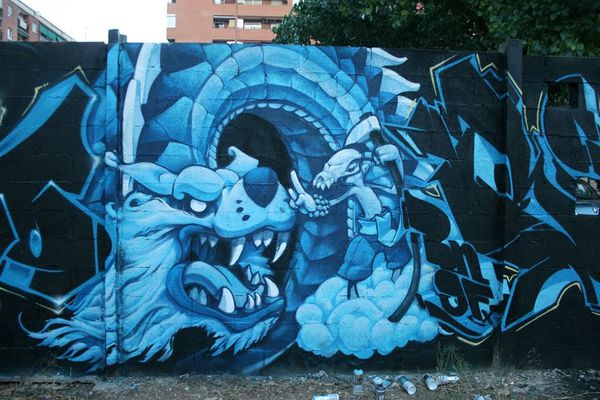 An important meeting that motivated your work?
would not know. I guess I've been lucky and when I got to a point of evolution ... you know those moments you say, "I'm stuck doing the same" ... appeared a friend who painted and learned a lot from him.
I was very lucky to learn from the best as a person and writers.
At the beginning I was a toy ... logical. ajjaja. But I was lucky to see parts Eroz and my teacher was Mive. After I met SAOK led me to another level. Then with Seb trip to Madrid, and saw all my idols Spanish and Seen

Then I thought to get to go outside of Spain was unthinkable, then appeared BREAKS that came from Italy .... the fucking master. He did a lot for me and my style. I started to travel to Milan, I met REBEL-phantom who made me see my shortcomings and needed speed.
After entering BN, and there .... bufff was as if I had 25 teachers. ajajja.
I've been very very lucky to see how they painted my idols and watching them learn.
What is the role of graffiti in your life?
is my hobby, I do not want to be my job or anything like that.
That's why I like to go to big exhibitions or participate in the mainstream of the average.
I like to go with my friends to paint or paint to Self-Improvementmyself. Do not think I do if people liked.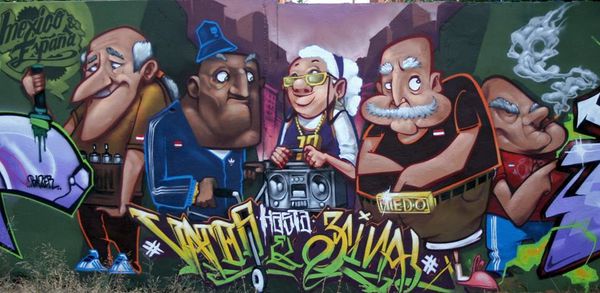 Graffiti is something pure, that is done for the sake of art, without expecting anything in return.
As expect a profit of fame or money, you lose that essence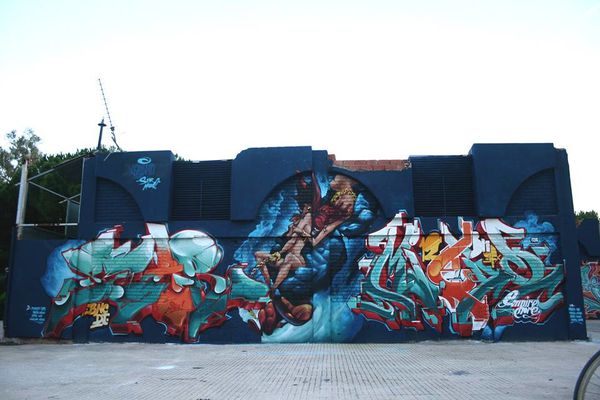 Your sources of inspiration?
is difficult to express. Depends on what you want to do.
I would like to say, I capture what I have in my head ..... the problem is that my technique is not as good for it, but little by little I hope so.
So my sources are very diverse, from the comic image of the 90, the z series films as the avenger toxic or Japanese anime. Illustrations of creepy .... Well and I am in love with the Art-Nouveau, Mucha above.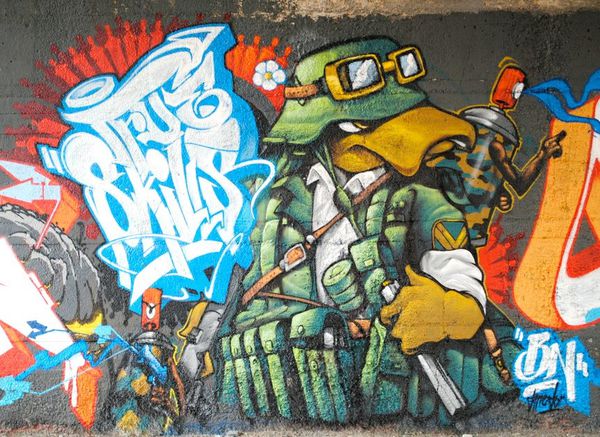 In the letters of graffiti is concerned, today I have no strong inspiration from some writer or aesthetics of a country especially ..... To be honest I have a style that is based on my idols. Mode2, Brok, Atom, Morse, t-kid, Sweet, Dare, Zeus (Wb), Reso (Wb), Opium, Rota, Per, Ces and Pencil puppets, Boost, Clas, Face, Poseidon, and Mode2 Seesma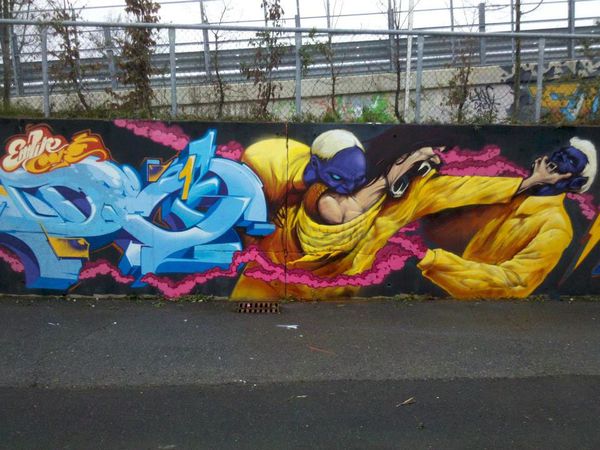 Dedications course?!
Would need three pages almost. XD. Because really if I paint or do something interesting is people who taught me not just in graffiti.
Eroz, Saok, Seb, Growxo, Break, Kaniz, Wolf, Ston, Fore, Nase, Dnt, Omarcore, the tbs-crew, Napoléon, Diom, Rival, Dear, My family BN, Rebel, Beps, Cone, Boost , Entics, Clas, Impo, Ope, Neon, Sisma, Dibs, Jaik, TRETZE, Heist, Koet, JN2, Mr. Chapu, Opium, Rota, Zeus, Pencil, Aspyr, Spra, Sobek, Kcis, Reso, Razer, Sore , Sear, Eire, to Neula for giving me support site where you can draw, to my other family GFx Spanish ... sure I forget somebody, but in general for those who consider my friend
https://www.facebook.com/miedo12
And Discover here more interviews graffeur from all the world!