Manny Vargas est un bodyboarder Pro, une légende du drop knee!Aujourd'hui, il est commentateur sur le circuit IBA!il nous parle de bodyboard, du tour IBA, de longskate,du mexique de son tee shirt Phenum!!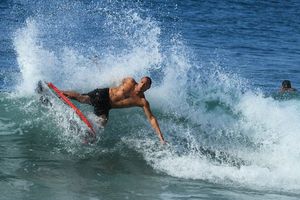 When and where did you arrive ON earth?
I was squirt onto the planet on December 3, 1971. Man, that first breath was great!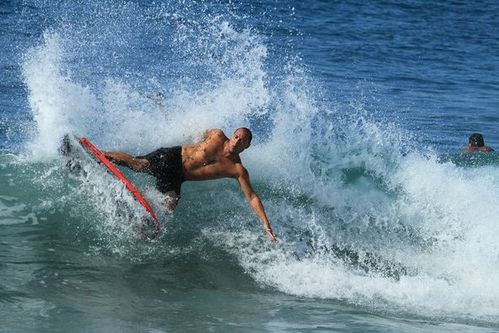 When did you started surfing?
I borrowed my brother's Morey 139 Red Edge back when I was 11 years old. I took up surfing for a summer when I was 14 but had more fun on a bodyboard. So kept on the bodyboard.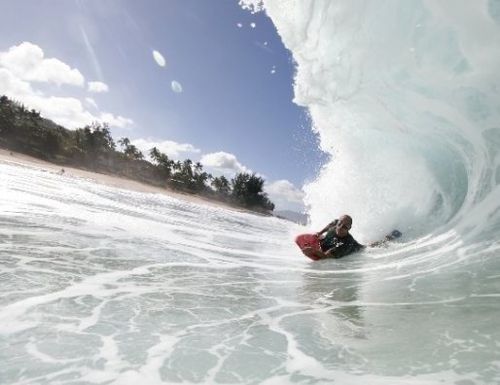 I follow up live feeds on the IBA tour and I see you're always at the right place for the pics!!! IBA Tour was fantastic this year! What is your work in the IBA Tour? Do you prefer beeing involve in the staff or just competing?
My official job for the IBA is webcast commentator and frontman for the world tour. I am the face of the IBA World Tour. It's crazy. I love being able to get the behind the scenes madness and at the same time I wish I could get out there and compete with the DK crew. But my official job sometimes won't let me compete. It's all good. Just as long as I'm involved in one way or another.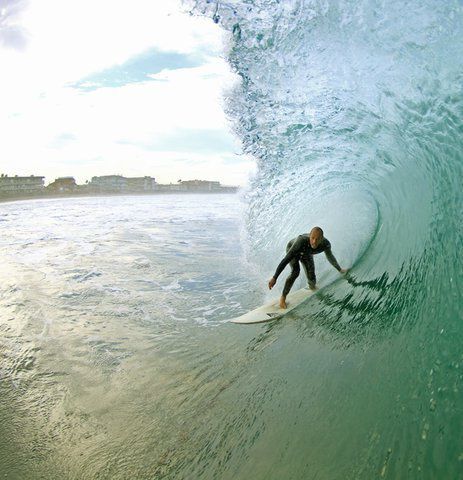 Would you rather stay 2 weeks surfing southern mexican points or 2 weeks in Puerto Escondido?
Doesn't matter. I just wish my wife was able to travel with me more often. I've been away from my wife for about three months this year. Kinda sucks.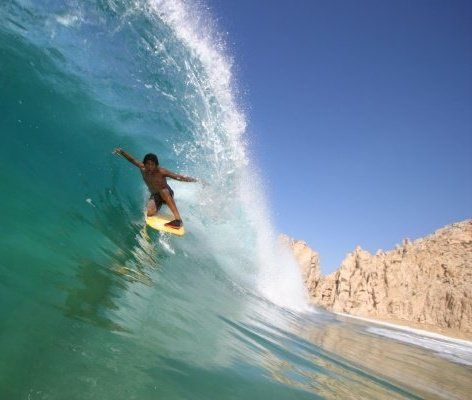 You are from Mexico . One of our slalom skateboarder will cruise down central America from Baja to Panama for a year. Which place or area would you especially recommend to him?
I was born and raised in San Diego. Imperial Beach to be more specific. I recommend only the places that I know are great or that I have visited. Cabo San Lucas is a must! Party town and just a great vibe there. As for skateboarding... I need to put him in contact with my buddy in Panama. He knows all the skate crew down in the city.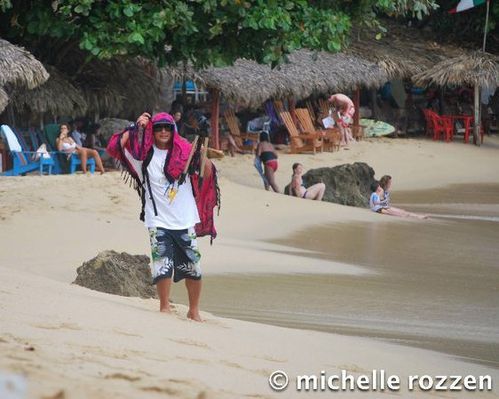 Do you often ride skateboards?
I used to skate back in the day with one of California's best, Fred Orlande. He had a sick half pipe in his backyard. It was epic. But now if I get on a skateboard, it's a longboard skate.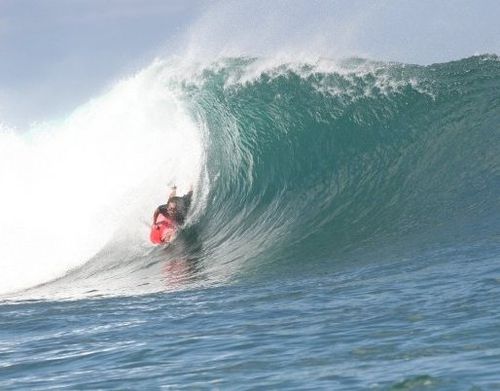 Island Slalom Tour is a series of skateboarding contests on tiny french islands where nobody has ever skated! We are as Captain cook at Hawaii in 1600! Except we have now motor boats and concrete roads... What do you think about this?
Fucking unreal! I would love to visit!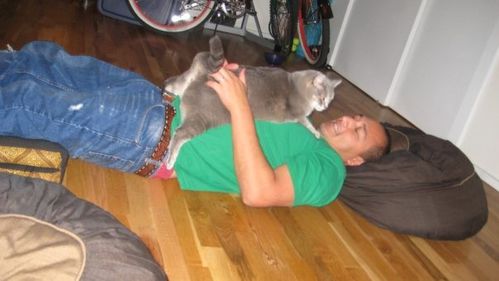 You come when you want with your wife and your fat cat!! You will be your special guests!
What is your biggest Wipe Out?
1996. Waimea Shorebreak. My South African friends were always looking for big shorebreaks and when Waimea Shorebreak was on, we hit it! But we partied 'til 3am the night before and only slept a couple hours. The waves were massive. I had to use my leash a couple times to find the top of the water. If my leash broke, I wouldn't be answering your questions.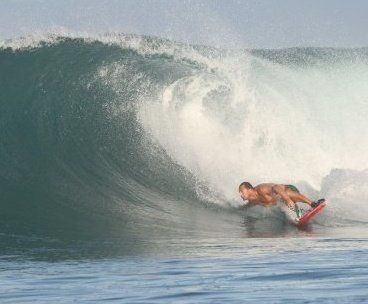 During the Sintra IBA tour, a friend from my home town gave you a tee shirt Phenum! It is funny because Phenum is one of our partners for Island Slalom Tour! Do you like it? Is it your pyjama now? We would be flattered
:)
I love the designs man! I only wish the shirts they give to me fit. They were a little small. So I gave them to my friend who loves them.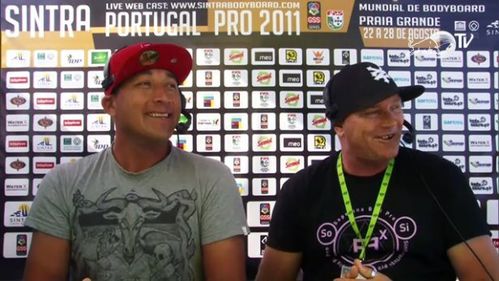 What is your best souvenir when travelling ?
All my photos and memories of all the great people I met are my souvenirs.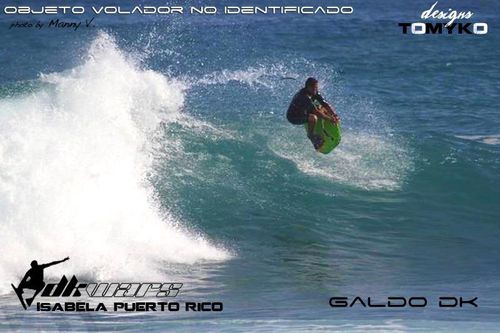 One morning, you wake up (may be with your Phenum pyjama!!) ,You arrive in your kitchen and suddenly,you see a genius in wetsuit! He say:" Hey Mister Manny, I can offer you 2 magic gifts! What do you want?
Gift 1: I wish that my wife and I can fly.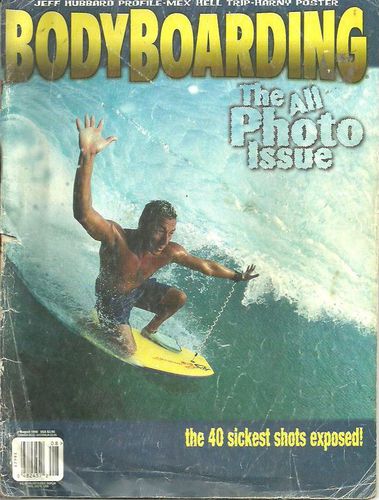 Gift 2: Fix this peace of shit world economy crisis. It sucks that the global capitalism greed is finally being brought to light. It's too bad.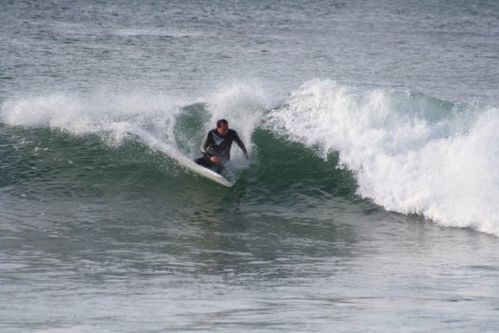 Have you heard about the big waves behind the Batz Island in Brittany ?
I have heard of Brittany but not the Batz Island. Sounds cold. Is it cold? My goal in life is to have the endless summer. I try my best to avoid the cold. I know that there are warms waves somewhere on this planet and I would rather be there than cold. But... I will go to the cold if it means I can get barreled on DK. Is this possible in your home?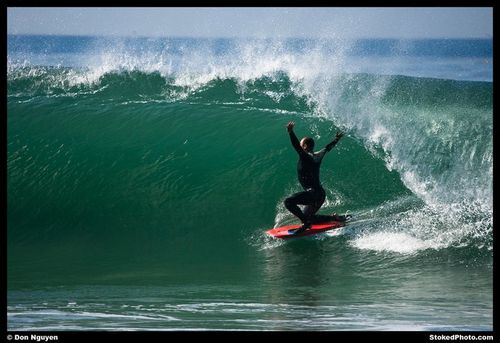 Yeah it is possible! Brittany is fantastic to barrell on DK.
How would you define a good session ?
Good friends, warm water, glassy conditions, slight offshore... wait. Every session I have on my IndoExperience.com trips are all good! :)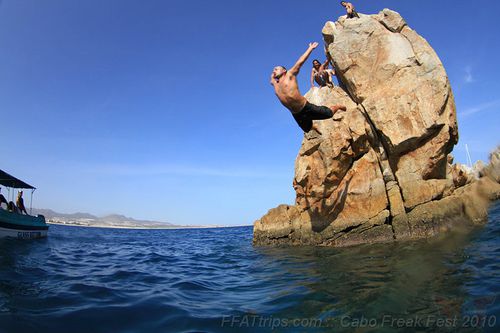 Good memories ?
Yes. All of them.