Direction Los Angeles à la découverte d'une rideuse bien cool!!!Julie Westfall qui est en interview exclusive pour le site de l'Island Slalom Tour!
Could you describe you in few line?
- I'm a very outgoing, adventrous and bubbly girl who loves the outdoors and all sports. I'm always looking for the next big adrenaline rush.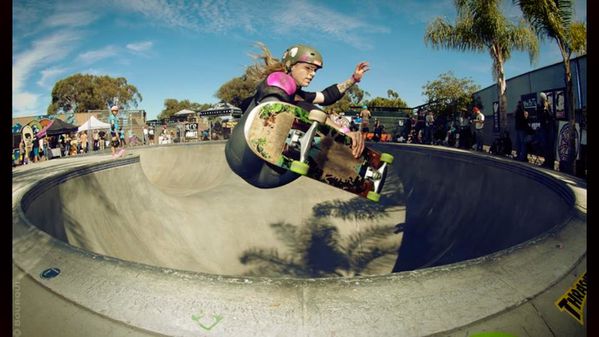 When did you started Skateboarding and why?
- I started skateboarding when I was 14. I was obsessed with Bam Margera from Viva La Bam and always watched him skate. So, for Christmas, my grandparents bought me this Pink and Blue Element Bam board with bats and a heartagram on it and I fell in love with skateboarding.

What do you prefer in skateboarding! bowl/street?
-I prefer to skate bowls. Even though my idol, Bam Margera, is a street skater, I enjoy skating bowls and park more. I love the speed and I love that I can get some serious air in a bowl.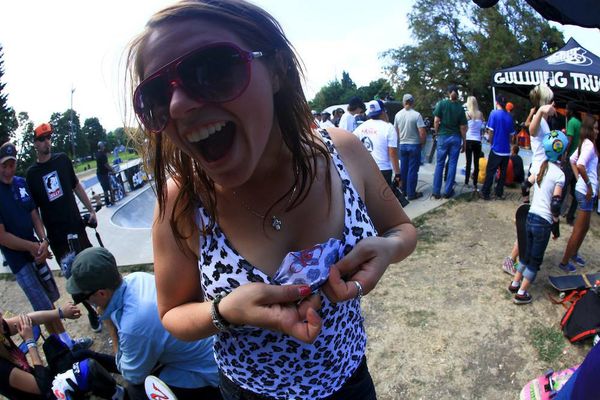 Where do you live ! Is it a good place?
-I live in Los Angeles, California. Its a good place to live if you are a skateboarder because there is literally a skatepark in every town. And the more South you go, the better the parks seem to be. So, if you plan on trying to make it big in the skateboarding industry, I recommend living here.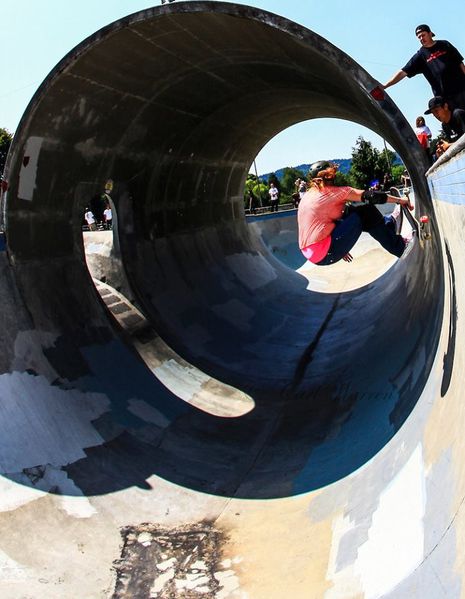 Who is your favourite rider?
- My favorite skateboarder would have to be vert skater, Alex Perelson. He won the Maloof Money Cup back in 2011 and he's just a beast in vert. Every time I watch him skate, I'm astounded.

What is your best result in contest?
- I wouldn't say this is my best result in a contest, but the one I'm most proud of is placing 14th in the first Pro Womens Combi Bowl Classic in 2010. I competed with the top females in bowl skateboarding and came out with a good result! I'm very proud of it!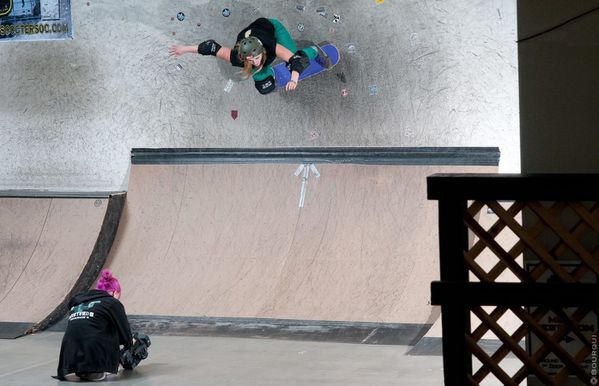 What is the craziest meal that you eat during a surf trip?
-I've actually never been on a surf trip but I have been on a skate trip. And I actually wouldn't eat anything that freaked me out. Haha But, while on a skate trip, my team manager for Silly Girl Skateboards, Matt Gaudio, ate a spider and freaked all of us girls out! It was awesome!! Hahaha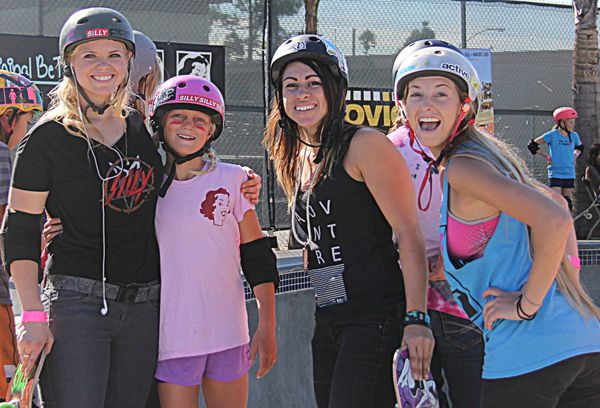 Do you eat "Rosette" when you were at Lyon? You like it?
- I have no ide what you are talking about lol

Do you often ride skateboards?
- I try to skateboard at least 2 times a week. If I don't get to skate, I go crazy!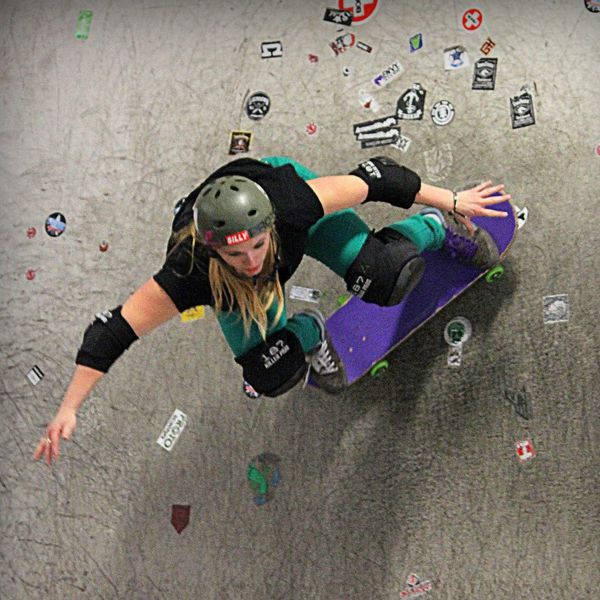 Island Slalom Tour is a series of skateboarding contests on tiny french islands where nobody has ever skated! We are as Captain cook at Hawaii in 1600! Except we have now motor boats and concrete roads...What do you think about this?
- I think this is awesome! I'd enter these contests in a heartbeat and I'd also love to see beautiful France!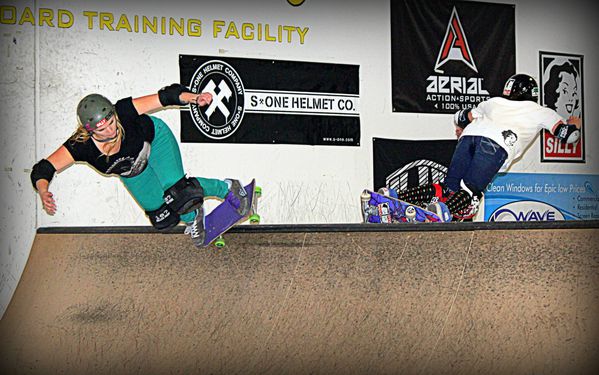 What is your biggest Wipe Out?
- My biggest wipeout would definitely have to be when I was practicing for the 2011 Combi Classic. I was trying a frontside layback air and bailed 12 feet to flat bottom. My right ankle was the first thing to take all the impact and it snapped. I broke the fibula and had to have surgery. I now have 2 plates and 6 screws in my leg for life.

One morning, you wake up ,You arrive in your kitchen and suddenly,you see a genius in wetsuit! He say:" Hey Marcos , I can offer you 2 magic gifts! What do you want?
- Hahaha I'd wish for infinite money in my bank account and for more wishes of course!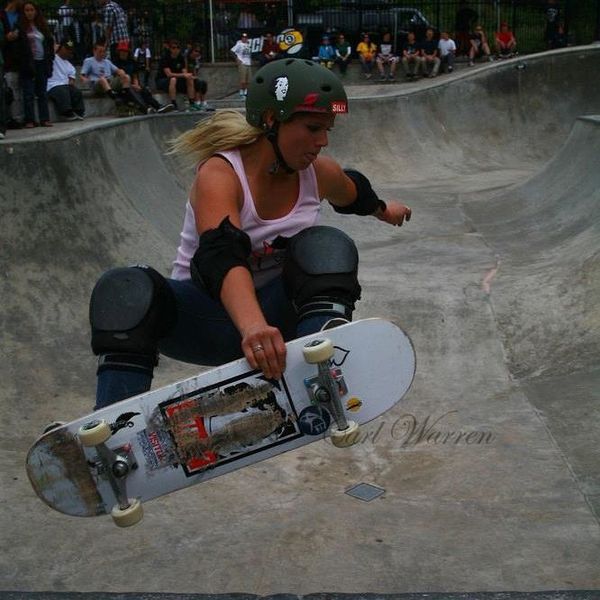 How would you define a good session?
- A good session for me is when I leave the skatepark with a sense of sanity. Skateboarding is therapeutic for me, so if I leave the skatepark with a clear and happy mind, then the session was good!
Do you have sponsors?
-Yes, I'm sponsored by Silly Girl Skateboards. They are an all girl skateboard company who redefines what it means to be a female skateboarder. Our team manager, Matt Gaudio, always has our greatest interests at heart and he is one of the kindest people I know. I'm very proud to be on the team and I hope more girls see that they too can skate!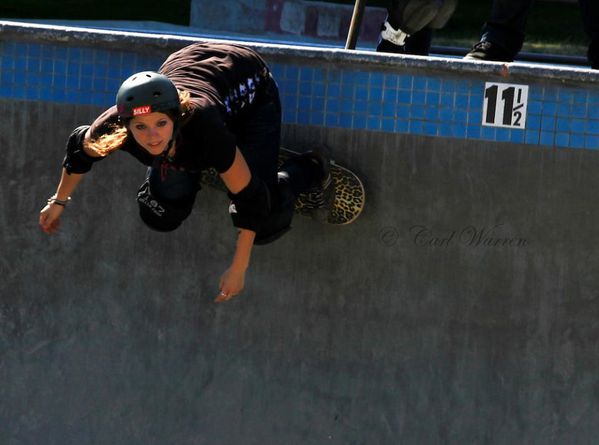 Skateboarding will always be a part of my life. I love everything skating has done for me and all the doors that have opened up. But mostly, I love the people in the skateboarding community. We all share this common bond of love and stoke for this sport. You won't find more genuine people in any sport like you will in skateboarding.
Also, there is no limit to what you can do in this sport. I'm very proud and humbled by skateboarding and I cannot wait to see what's next. And event though, I can air high up in the sky, skateboarding keeps me mentally grounded and happy.
Et retrouvez sur le site Island Slalom Tour des interviews de Pros et amateurs!
Marc Haziza, Skateur pro en Interview!
Interview Derek Fukuhara , Pro Skateur
Interview Kelvin Hoefler , Skateur Pro from Brazil
Interview Dias Christophe Sampaio, Skateur Pro
Interview Vincent Milou , Champion de France Espoirs en Street 2012
Interview Cyril Jubin, Vice Champion de france street 2012
Interview Samu Karvonen, Pro skater
Interview Stephan Boussac,skateur de Marseille
Interview Wissem Bensalem, Internationnal Pro Rider RADGOLL Shop!
Interview Max Renaud , Skateur Pro du team PW skateshop!
Interview Andréa Dupré, Skateur de Bordeaux
Interview Gerald Deloye,Skateur, Graphiste,Réalisateur de courts métrages...
Interview Benjamin Garcia, Skateur de Bordeaux
Interview Joseph Garbaccio,Skateur du Havre
Interview Max Verohanitra ,skateur pro en Interview!!
Et plein d'autres ici,plus de 165 skateurs interviewés: