Direction le nord de l'espagne à la découverte d'un adepte du kneeboard que je vous invite à découvrir sur le site de l'Island Slalom Tour!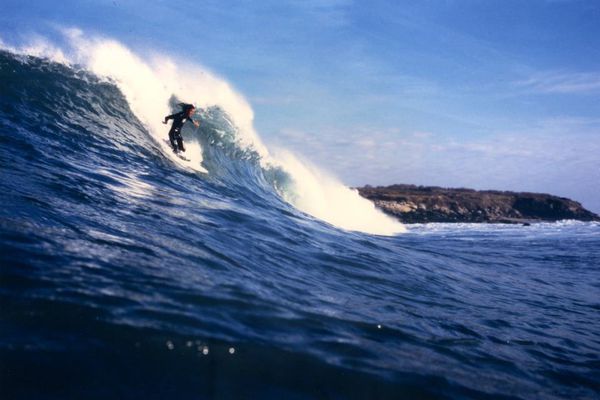 Could you describe you in few line?
Im usually a happy person who enjoys life. I believe that family comes first, and I love to travel and meet new people. I love dogs and animals in general.
My biggest passions are kneeboarding, fishing, snowboarding and of course my beautiful wife.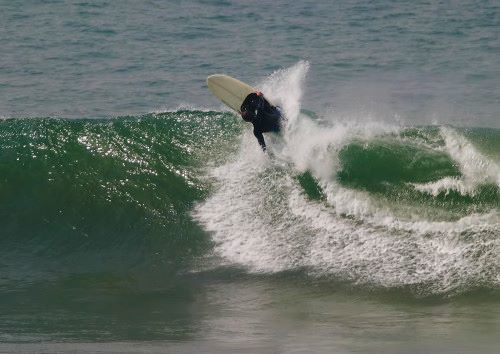 -Suelo ser una persona contenta que disfruta de la vida, creo que la familia es lo primero y me encanta viajar y conocer gente nueva. Me gustan los perros y los animales en general. Mis mayores pasiones son kneeboarding, pescar, snowboarding y por supuesto my maravillosa mujer.
When did you started kneeboard and why?
I come from a family of surfers so i have been in the water basically my whole life, I was a boogie boarder until the age of 11-12, at that age I started borrowing one of my fathers surfboards but wasn't really my cup of tea and then I watched "The inner most limits of pure fun" with my father and loved George Greenough's riding and how much fun he seemed to have so I started borrowing an original Greenough spoon that my uncle Rafa had. Then in 1988, in one of our family trips to Biarritz, my father bought me a kneeboard from french ripper Christian Plumcocq.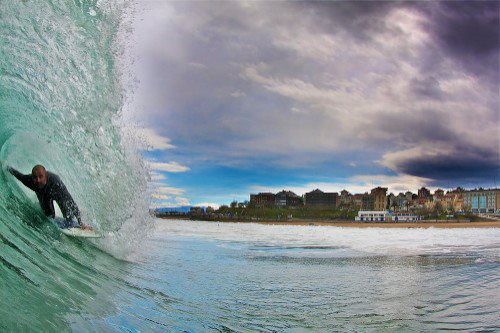 -Vengo de una familia de surfers, y he estado en el agua prácticamente toda mi vida, de niño confía olas con un boogie hasta que a los 11-12 años empecé a probar con una de las tablas de mi padre pero no me gustaba mucho realmente. Entonces vi " The inner most limits of puré fun" y me encantó ver como se lo pasaba de bien George Greenough, así que empecé a probar un spoon original que tiene mi tío Rafa. Hasta que en 1988, en uno de los viajes familiares a Biarritz, mi padre me compró un paipo de Christian Plumcocq.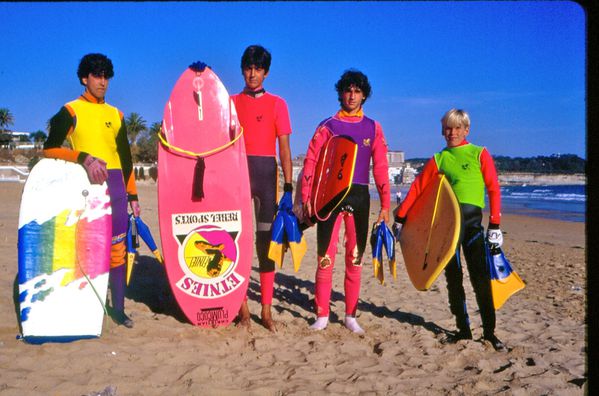 Where do you live?! is it a good place?
I live in the north of Spain in a beautiful city named Santander, I think its a very good place because I can do all the things that i love, surf, fish and snowboard. I wish we had good waves more often though.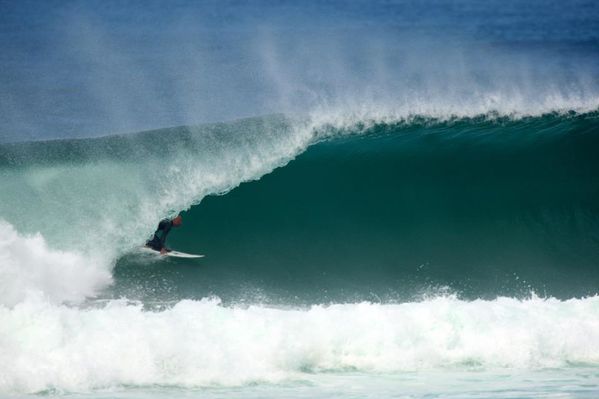 -Vivo en una ciudad del norte de España que se llama Santander, es un sitio estupendo para vivir porque puedo practicar el snowboard, el surf y pescar. Aunque me gustaría que hubiera buenas olas mas a menudo
What do you like in kneeboard?
The thing that i like most about kneeboarding is to drop in late and pull in the barrel without a bottom turn, and the thing i hate most is surfing in 2 foot choppy conditions.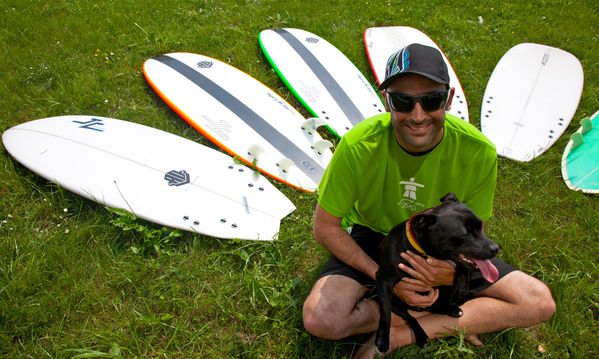 -Lo que mas me gusta del kneeboard es meterme al tubo sin hacer un bottom, y la cosa que mas odio es surfear en olas choppys de medio metro.
Island Slalom Tour is a series of skateboarding contests on tiny french islands where nobody has ever skated! We are as Captain cook at Hawaii in 1600! Except we have now motor boats and concrete roads... What do you think about this?
A mans gotta do what he is gotta do, and if your body tells you to go skating in tiny islands then go for it, i bet its a lot of fun. I have skated a bit when i was younger but not anymore, the asphalt is too hard for me nowadays.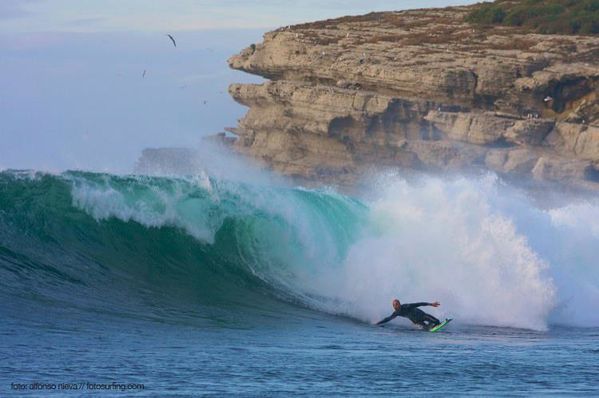 -Un hombre debe hacer lo que debe hacer, y si tu cuerpo te pide ir a patinar en islas pequeñas, pues entonces es lo que tienes que hacer, apuesto a que es my divertido. Yo patinaba algo de pequeño pero ahora el asfalto está demasiado duro para mi.
Describe your biggest Wipe Out!
I really don't know, i have had my board hit me a few times and got stitches but nothing too serious, i love surfing big waves so i have got my share of wipe outs too. If i have to choose the time when i have been the most scared it has to be one day surfing by myself in an island that is like in a 20min paddle from shore, with what people was calling 5m plus and by the time i wanted to get out i couldn't because of the current between the island and the land in the channel that we normally use. I had to paddle to the beach close by and "catch" 3 or 4 bombs until one of them got me to the shore. I had to sit down in the sand because my knees were trembling so much that i couldn't stand up.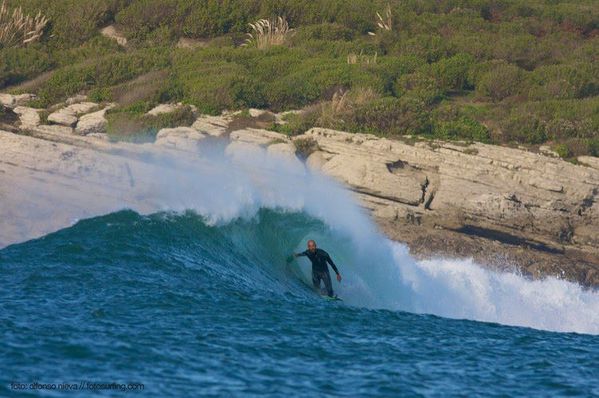 -No se cual ha sido mi mayor wipe out, la tabla me ha dado unas cuantas veces y me han puesto puntos, y como me gustan las olas grandes pues también me he llevado unos buenos revolcones. Pero si tuviera que escoger el día que peor lo he pasado, tiene que ser un día que estaba surfeando solo en la Isla, en lo que la gente que estuvo mirando decía que estaba de mas de 5m, y que cuando me fui a salir no podía por la corriente que había entre Loredo y Santamarina, al final tuve que remar hasta enfrente del camping y allí coger 3 o 4 bombas hasta que una espuma me acercó a la orilla. Cuando llegue a la arena me tuve que sentar porque las rodillas me temblaban tanto que era incapaz de mantenerme de pie.
One morning, you wake up ,You arrive in your kitchen and suddenly,you see a genius in wetsuit! He say:" Hey Chus, I can offer you 2 magic gifts! What do you want?
Understand women and my wife in particular, and the ability to change shape into a dolphin whenever i wanted.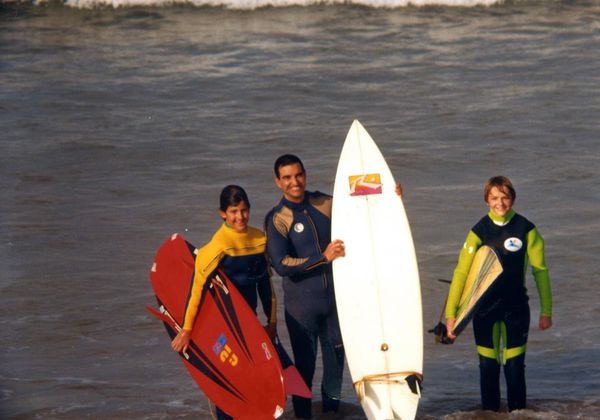 -Entender a las mujeres y a mi mujer en particular y la habilidad para convertirme en delfín cuando me diera la gana.
How would you define a good session ?
8-10 foot Santamarina island with strong east winds and only a few of my friends out. To make it all time i would love to have Karl Ward and some of the Legless crew in the water with me and Steen Barnes shooting from my fathers boat in the channel.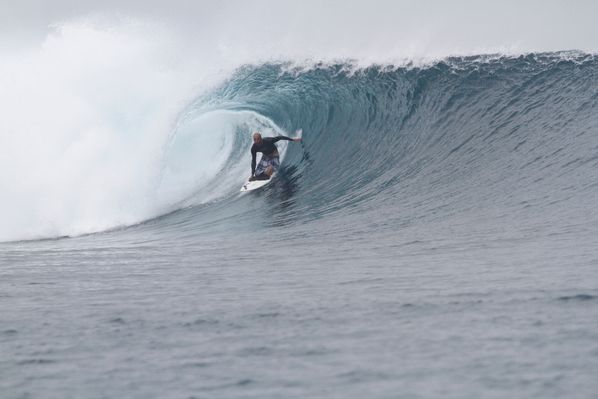 -Santamarina de 3 metros sólidos , viento fuerte del Este y unos cuantos amigos en el agua. Para hacerla la mejor de todos los tiempos tendrían que estar Karl Ward y algunos de los miembros de Legless.tv y Steen Barnes haciendo fotos desde el barco de mi padre.
If you were stranded on a desert island in iroise sea that already has a plentiful resource of skateboarding what three things would you bring?
Plenty of protections for my body, a longboard skateboard with the Kryptonic wheels i had when i was a kid, and a freezer full of cold ones.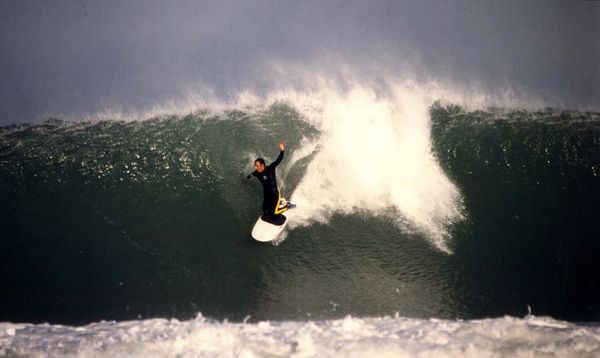 -Un montón de protecciones, un longboard con las ruedas Kryptonic que tenía cuando era un chaval y una nevera llena de cervezas frías.
In which town in the world would you dream to go riding with yout kneeboard?
There are many places that i dream of surfing at, but Zicatela in Mexico, and Kirra in Australia come to mind right away.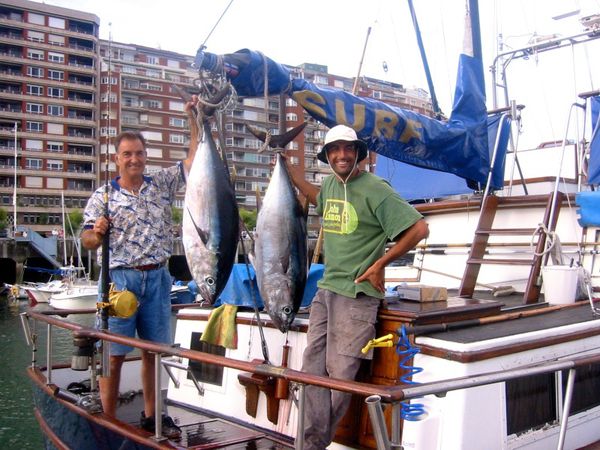 -Sueño con surfear en muchos sitios, pero los primeros que me vienen a la cabeza son playa Zicatela en México y Kirra en Australia.
Who is the best rider in the world for you?
Albert Munoz, Chayne and Simon seem to be pretty good but the best I have seen by far has to be Karl Ward, ok i know he is a brit but what can you do the guy rips, hahahaha Wardo!!!
-Albert Munoz, Chayne and Simon parece que son muy buenos, pero el mejor que he visto de largo es Karl Ward, si ya se que es inglés pero que le vamos a hacer, es un máquina, jajajaja Wardo!!
You are going in tahiti in July!Why?Are you happy?
I am not going to Tahiti in july, mainly because i don't compete, I would think more about it if it was in a reef break but since its in a beach break i have no doubts about it. I went to Tahiti in 2011 and it probably is the most beautiful place i have ever seen, and with the friendliest human beings ever.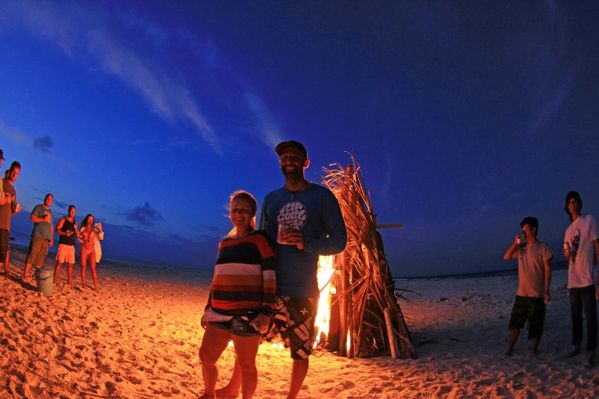 - No voy a ir en julio a Tahiti, principalmente porque no me gusta competir, además teniendo en cuenta que el campeonato va a ser en una playa pues ni me lo planteo, si fuera a ser en un reef igual hasta me lo pensaba. Tuve la suerte de ir a Tahiti en el 2011 y probablemente es el sitio mas bonito en el que he estado y sus habitantes los mas hospitalarios que he conocido.
Do you have sponsors?
I have never had sponsors in my life, I have friends in the industry and i usually don't pay full prize for equipment but pay for everything i want. Im a proud contributor to Legless.tv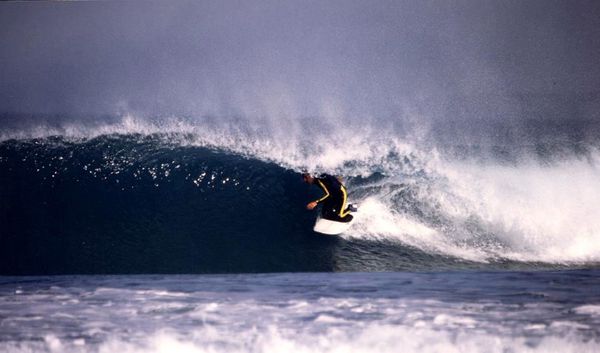 -Nunca he tenido un sponsor, aunque como tengo amigos dentro de la industria del surf pues no suelo pagar el precio de tienda por las cosas, aunque si que tengo que pagar por todo lo que quiero. Soy un orgulloso contribuyente de Legless.tv
A last word?
First of all I want to thank my family for making me what I am today and my wife for putting up with me, I also want to thank Legless.tv and Steen Barnes in particular for showing everybody and specially me the roots of kneeboarding and what kneeboarders are doing in the other side of the world, its very inspiring and i love it.
I would also like to thank everybody who is a member of the kneeboarding clubs in Facebook for keeping up the good vibes and great support, you guys are great. I hope i have a chance to meet you somewhere sometime, stay in shape and go to the beach!
Cheers!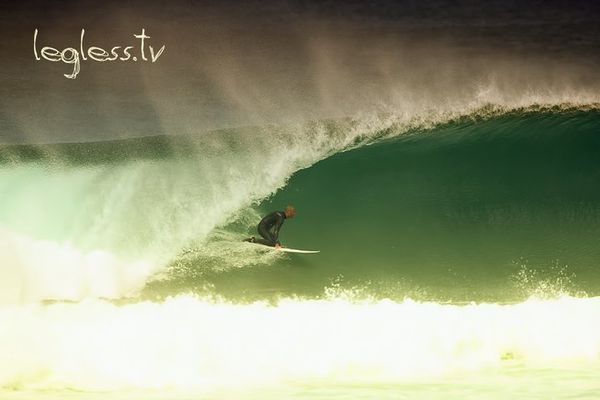 -Lo primero de todo sería dar las gracias a mi familia por hacerme quien soy hoy en día, y a mi mujer por aguantarme. También me gustaría dar las gracias a la gente de Legless.tv, y en especial a Steen Barnes, por enseñar al mundo y a mi en particular las raíces del kneeboard y lo que están haciendo los paiperos del otro lado del mundo, me encanta! También me gustaría dar las gracias a toda la gente que forma parte de los grupos de kneeboard en Facebook por el buen rollo y el increíble apoyo, sois cojonudos. Espero tener la oportunidad de conoceos y daos la mano en algún momento en algún sitio.
Manteneos en forma y ir a la playa.
Salud!