Partons à la découverte d'une longboardeuse qui charge des bonnes grosses vagues,pratique le longskate...Si vous souhaitez en savoir plus,je vous propose une petite interview de cette championne!
Could you describe you in few line?
- I do what I love and love what I do, living in the most positive way ever.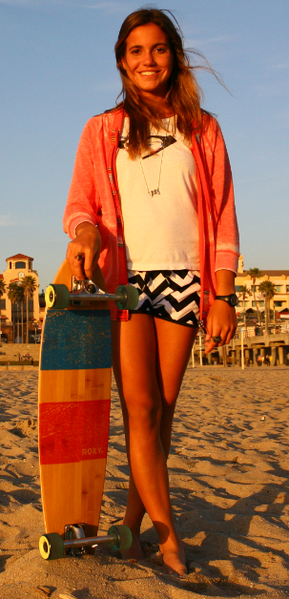 When did you started surfing and why?
- My dad has been a surfer for decades and he always would take me to beach with him since I was a baby. I won my first surfboard when I was 11, and got my first longboard wave when I was 12 - it was love at first sight!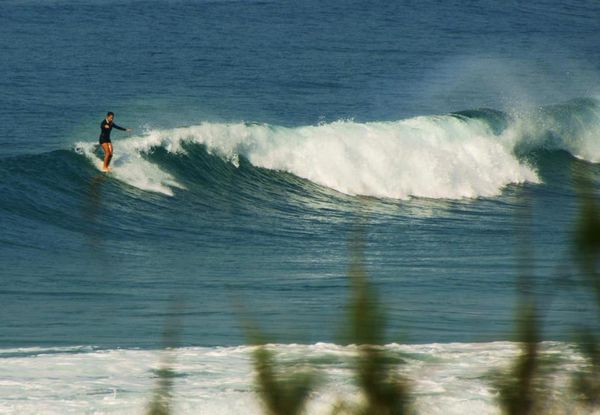 Where do you live ! is it a good place?
- I live in Rio de Janeiro, Brazil. Rio is such a relaxed and beautiful city! There are a buch of nice surf spots near my home, and nice places to hang out as well.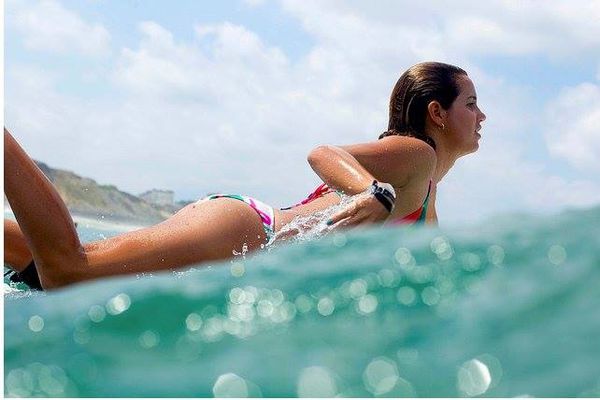 What is your best result in contest?
- I won the Punta Sayulita Classic early this year in Mexico, and I am top 10 of ASP world longboard ranking. Also, I was the youngest brazilian champion (with 15 years old).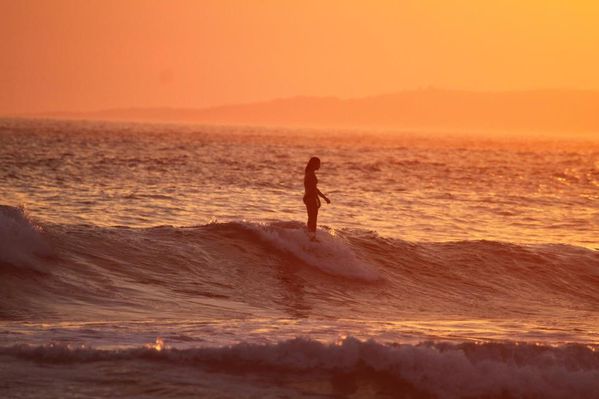 Do you often ride skateboards?
- I like to ride skateboards too, especially the longboards! haha
Island Slalom Tour is a series of skateboarding contests on tiny french islands where nobody has ever skated! We are as Captain cook at Hawaii in 1600! Except we have now motor boats and concrete roads... What do you think about this?
- Is awesome to see how the radical sports are developing nowadays. They have won events, contest, athletes, and it is getting more professional!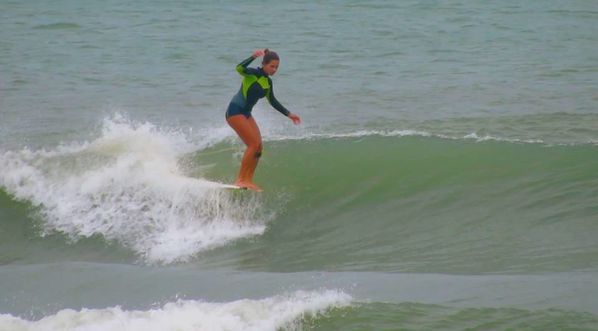 What is your biggest Wipe Out?
- The ones I get scary and worried about my board! haha. But the biggest waves I've got were in Sunset in Hawaii and Punta de Lobos in Chile.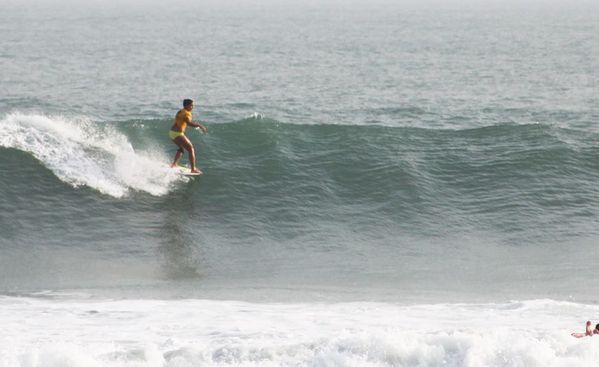 One morning, you wake up ,You arrive in your kitchen and suddenly,you see a genius in wetsuit! He say:" Hey , I can offer you 2 magic gifts! What do you want?
- I'd ask for a trip to an awesome place with my family and friends, and for more positivity and peace in the world.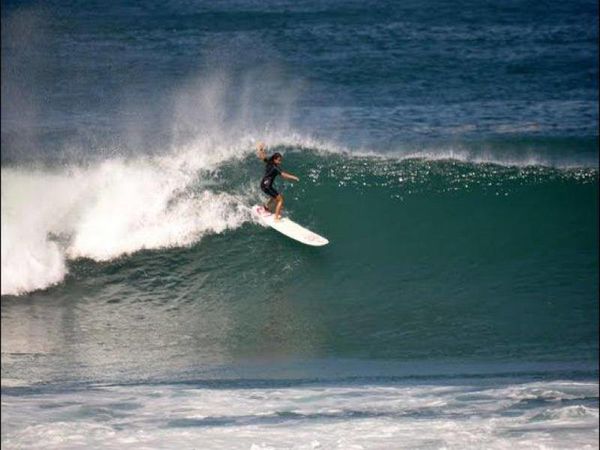 How would you define a good session ?
- The best session is the one you are having fun the most! But for me, 3-6 foot glassy waves with only my friends and my dad out.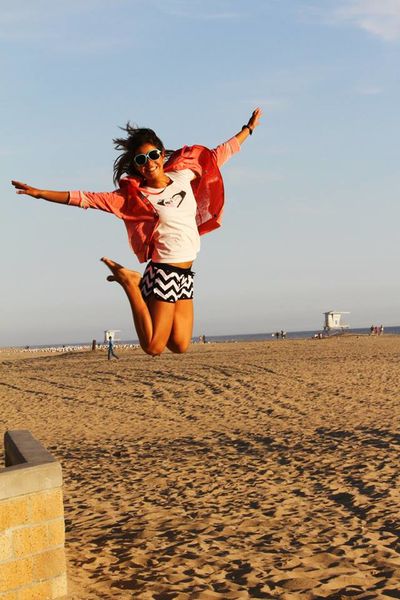 Do you have sponsors?
Yes - Roxy, Furnas Energia, X1 Brazil and Colégio QI.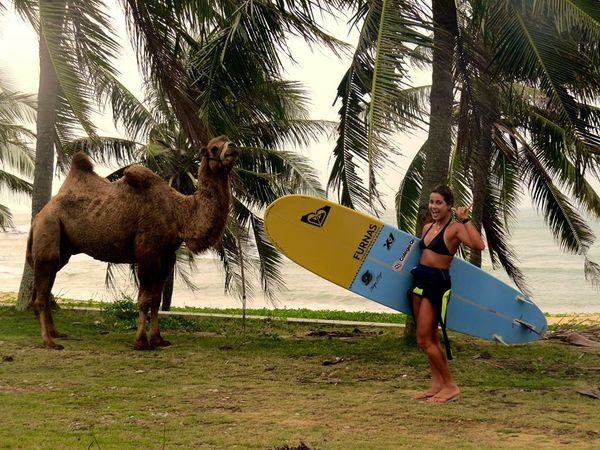 A last Word ?
Never underestimate what you can do when you believe in yourself! And also, let's keep our beaches clean, the ocean is our home!
https://www.facebook.com/#!/pages/Chlo%C3%A9-Calmon/272888646104083
Découvrez d'autres surfeurs sur le site IST!
Interview Eric Rebière , Free Surfeur Pro
Alizé Arnaud, championne du monde ASP en interview!!
Interview adrien boedec, Rider Phenum and Juanito surfboards
interview Jean Sébastien Etienne, Surfeur Pro
Interview Othmane Choufani, Free Surfeur Pro from Marocco
Interview Dimitri Ouvré , Champion d'europe de Surf
Thomas Joncour, co-createur du club et école de surf 29hood!
Didier Piter, Surf-Coach en Interview!!
Interview Edouard DELPERO , Double Champion de France de Longboard
Interview Alex Kersaudy , jeune espoir du surf breton
terview Gordon Fontaine,Surfeur Pro
Interview Romain Laulhé, Surfeur Pro
Interview Garrett McNamarra, Rider of the biggest wave in the world and a cool man
Et encore plus ici!!