Voici un interview de Céline Chat à propos de sa peinture sur epave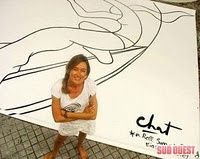 What is so special about doing art in abandoned ship wrecks ?
There are several reasons that "doing Art" on abandoned ship wrecks is very special to me.
First of all, old and abandoned things are very inspiring to me. Abandoned objects are filled with their own story.
It is unknown for us and therefore mysterious. It's very exciting for my imagination. It leaves room for fantasies, from the most sordid and dramatic to the most romantic and epic.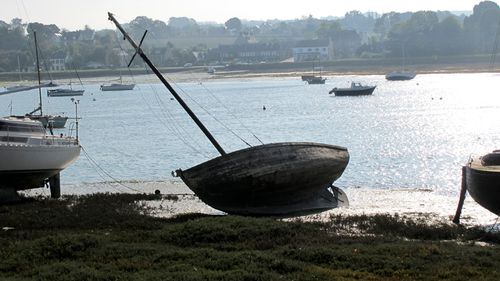 In the case of an abandoned ship wreck, this process is enhanced because of what a ship wreck symbolizes.
Love and Ocean's respect, a good working tool, the travels, Adventure, Freedom, are some of them...In one way, it's a perfect dream machine.
In addition, the soft and rounded shapes of boats which remind me the hydrodynamic morphology of fishes and Cetaceans, added to the the surface's aspects, burned by sun and salt over the years, offers a very inspiring support to paint.
To finish, I would say that I can't ignore the negative connotation of "wreck". When it means "decadence", "ruins", "misery", "human wreck". It talks us about our own fragility and reminds us of our condition of mortal.

What is the message behind this action ?
The message behind this action is a positive message.This is the story of an encounter, an exchange between the people, the land, the culture and I, which turning into an ephemeral art work.
In the difficult climate of economic crisis we have in France, I think art has a vital role to play.
In the difficult climate of economic crisis we have in Europe, the art has, in my opinion, several vital roles to play: get indignant, Drawing attention to a problem, Make someone dream, in allowing us to escape of our daily lives and Surprise by creating an element of surprise which question us on the reasons why "someone did that."
By drawing attention on the important problem of green algae in the municipality of Plestin-les-Greves, by bringing art
where it is not expected, far from cities and galleries, and by surprising the hikers during their walk, the wreck of Plestin-les-Greves, not only plays its role as an Art work but also opens the debate on the place and role
of art in our contemporary society.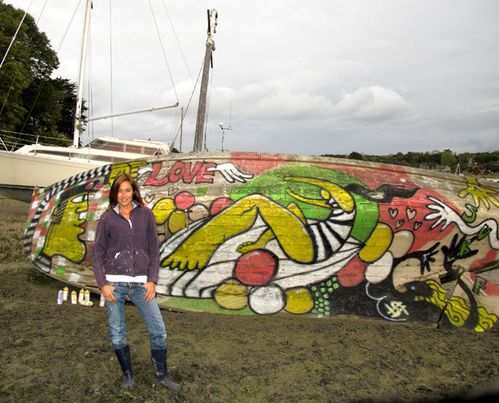 How long have you took to finish the Art work ?
It took me three days to find a shipwreck that could match my project and then two days to paint.

Tell me a bit about Plestin-les-grèves and how was your stay there.
This project began when I spoke of my desire to paint several wrecks around the world (for reasons I mentioned above)
to a friend named Loïc..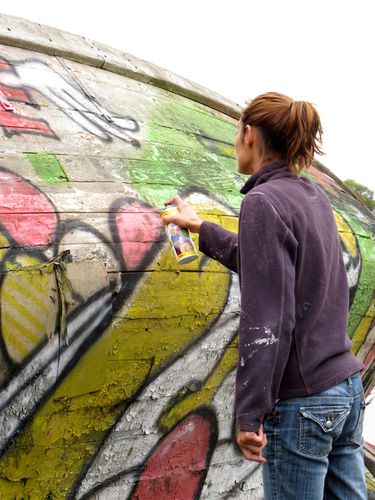 He then invited me to his parent's house in Britain (North west of France), to come and explore around, telling me that there were certainly several abandoned wrecks. His town of Plestin-les-Greves actually affected by the problem of green algae, perfectly matching my criteria, I left a week in search of a new wreck to paint.
I felt very welcome. I discovered a population proud of its region, beautiful sceneries as well as a very strong and interesting culture. I was fishing for shellfish when the tide goes out, I loved the famous "Breton pancakes," I surfed waves beautiful.
I am sure that living in a friendly atmosphere and close to nature, has, at the same time, inspired me in my work and offered me perfect conditions for the realization of this project.

in the mail you sent me you also said: "This painting is also intended to draw attention to the common Plestin-les-Grèves, very touched by the problem of green algae". Would you explain a bit more what's the main problem?
The Green Tide...

As every summer for 40 years, we find in the Breton soil of several tons of green algae called 'green tides'. These algae, once washed ashore, emit toxic gas.

The new features the center of the issue after the closure of the beach of Saint-Maurice Morieux (22) and the discovery of several dead wild boar in the Bay of Saint Brieuc.

Remember that this problem has been known for decades and has been highly publicized in 2008 and 2009 following several incidents: the death of several dogs, a horse, the rider discomfort and suspicion in the death of a truck driver manipulate the green algae.

Several sources were mentioned:
- Malfunction of coastal ecosystems (eutrophication)
- Intensive farming produces large amounts of nitrate allowed by the State
-Application of manure -Etc. ..

From these facts, the State, agricultural cooperatives and farmers are working to eliminate this problem and tries to find solutions.

Today, we observe that improves the quality of rivers in Britain, but that's not enough, the problem is still present, given the large volumes failed again this summer. -
would you have photos from Indonesian ship too? When did you do this?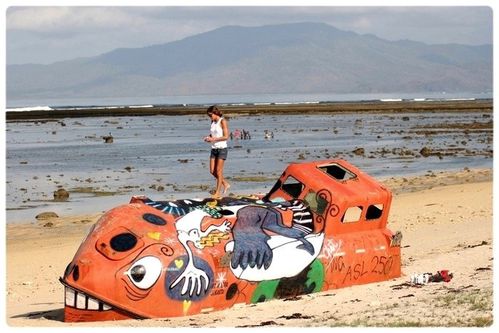 The first is located in Indonesia, on the beach of Lakey, on the island of Sumbawa in Indonesia. This idea is the result of the conjuncture of two events. The first is the presence of that survival ship wreck stranded
on the beach facing the wave. With its orange color faded by the salt and its rounded shapes, the wreckage was not ugly
but she offered a scene of desolation and sadness.the second is the disgust that we had a morning line-up seeing a huge amount of plastic packaging, bottles, glass, plastic and
other wastes of all kinds, arrived with the tide. We were on Monday. The day before, much of the population of the surrounding towns had come picnic at the beach.
The idea is great if it was the tons of garbage left on the sand once they are gone ... These two events associate in my head and "Rescue Boat" was born. I'd write "Clean Love Surf". My intentions then was to turn a wreck that was useless in an object with a positive message to sensitize people living near
the beach on the importance of keeping the beach clean. I also try to bring Art where we least expect it, surprise,
create discussion and questions.

hope you can come to Brazil and paint a ship wreck too (will include this question so we can ask our readers help to find ship wrecks for you, although i have one in mind)... if we find one, will you be able to come??! I really want to come to Brazil to paint a wreck. First, because Brazil is a wonderful country but also because I lived unforgettable moments at the festival FESTIVALMA,
met lovely people and discover a beautiful culture. Brazil has an incredible energy and a big heart. This is very inspiring. I have a big exhibition on 300 m² in June 2012 so I will stay in France until then. But After this, I would have more
time and why not visit my Brazilian friends ? This could be great !